Concrete Benches & Concrete Chairs From Concrete Designs in Kansas City
Are you looking for unique furniture that is functional, durable, and beautiful? Then you have found the right furniture maker in Kansas City. Concrete Designs custom designs and crafts luxury concrete furniture for Kansas City area residents. We can create beautiful furniture for your indoor or outdoor spaces.
If you are specifically looking for seating options, let us create a custom concrete garden bench, custom benches for indoor use, or unique concrete chairs that guests will love. Concrete is known for being durable, which is why many people choose this material for outdoor furniture, but you can also use it to create indoor furniture. Concrete seating makes for unique gift ideas as well.
Ready to learn more about concrete furniture custom designed just for you? Read on!
Why Concrete Is the Perfect Material for Seating Furniture
When some people think of concrete, they think of a patio, sidewalk, or driveway, but concrete can be used for so much more than that. Concrete can be used to create benches, chairs, and other seating options for indoor and outdoor use.
Concrete is such a heavy, solid material that it offers a high weight capacity, and with a few cushions, it can be a great seating choice no matter where you place your concrete bench. A concrete outdoor bench can also be a great visual display piece for your yard, and because of its low maintenance, you won't have to worry about your bench getting damaged.
As opposed to wooden furniture, which is vulnerable to moisture, or stone furniture, which may chip or crack, concrete is extremely durable and virtually waterproof. This means that if your garden furniture is caught in a downpour or exposed to extreme heat or high humidity, it will remain in the same condition as it was when you first built it. 
Concrete is also customizable, in terms of color palette and finish. Therefore, if you decide you want green metallic patio furniture for outdoor dining purposes, that's entirely possible. Whatever your vision is fine by us. The versatility of color and finish options is another feature that makes concrete stand out as a material, as opposed to wood, metal, or natural stone.
And if you want to increase your warm weather outdoor dining options, a smaller concrete table and chairs can create a charming garden dining area for afternoon tea or alfresco brunch, as well. Add a gazebo or an Italian-style loggia, and you'll be set, regardless of a little light spring rain catching you unaware. 
Or try concrete seating and coffee tables for your porch or back patio. A few small coffee or snacking areas are a versatile way to create alternate seating areas for solo guests or couples hoping to catch a quiet moment alone during a larger backyard gathering.
But concrete benches work great indoors as well. You can use your concrete bench or chair to make a statement near the entryway or below the stairwell, inside your home.  Concrete benches also could add welcome seating to a mud room or pantry area. They could also be placed in a hallway outside a bathroom door, to create a waiting area. Concrete also adds texture and interest to any space that you choose to place it. Concrete Designs can design, mold, and craft a custom concrete chair or bench to suit any seating capacity you need.
Get Your Concrete Bench From a Kansas City Furniture Crafter
If you want a beautiful concrete seating option for your home, choose a custom option that will perfectly suit your space. Whether you need an indoor concrete bench or an outdoor concrete bench, we can design and build the perfect concrete seating arrangement for your space.
Custom concrete furniture adds style, function, and wow factor to your home. Connect with Concrete Designs to get started designing and crafting your custom concrete bench.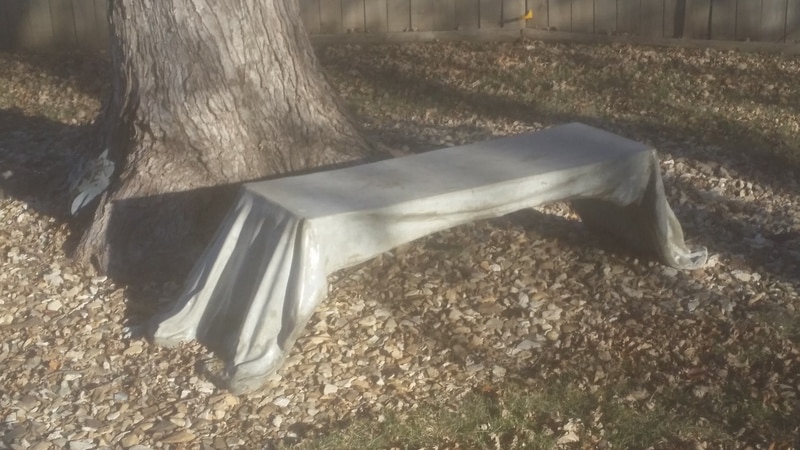 Free Shipping on all orders!
Check out our concrete benches today.