Custom Concrete Tables From a Kansas City Concrete Furniture Maker
Tables are useful all throughout your home, and you use them for a wide variety of purposes. For instance, you use kitchen tables and dining tables for eating, coffee tables for convenient storage of items you need in a pinch, and end tables for books and easy access while you're in bed or on the couch. Outdoor tables also serve a number of practical purposes.
It's safe to say that you use tables a lot, and you probably want your tables to last, be durable, reflect your style, and look amazing. When your tables have so much work to do, what types of tables should you furnish your home with? We think you should consider concrete tables because they can meet all of your needs.
Concrete Designs is a furniture maker in Kansas City, and we make custom concrete furniture for Kansas City area residents. We can design and create for you a custom concrete table, concrete coffee table, concrete dining table, concrete end table, or outdoor concrete table. Learn more about why you should consider getting concrete tables for your home or business.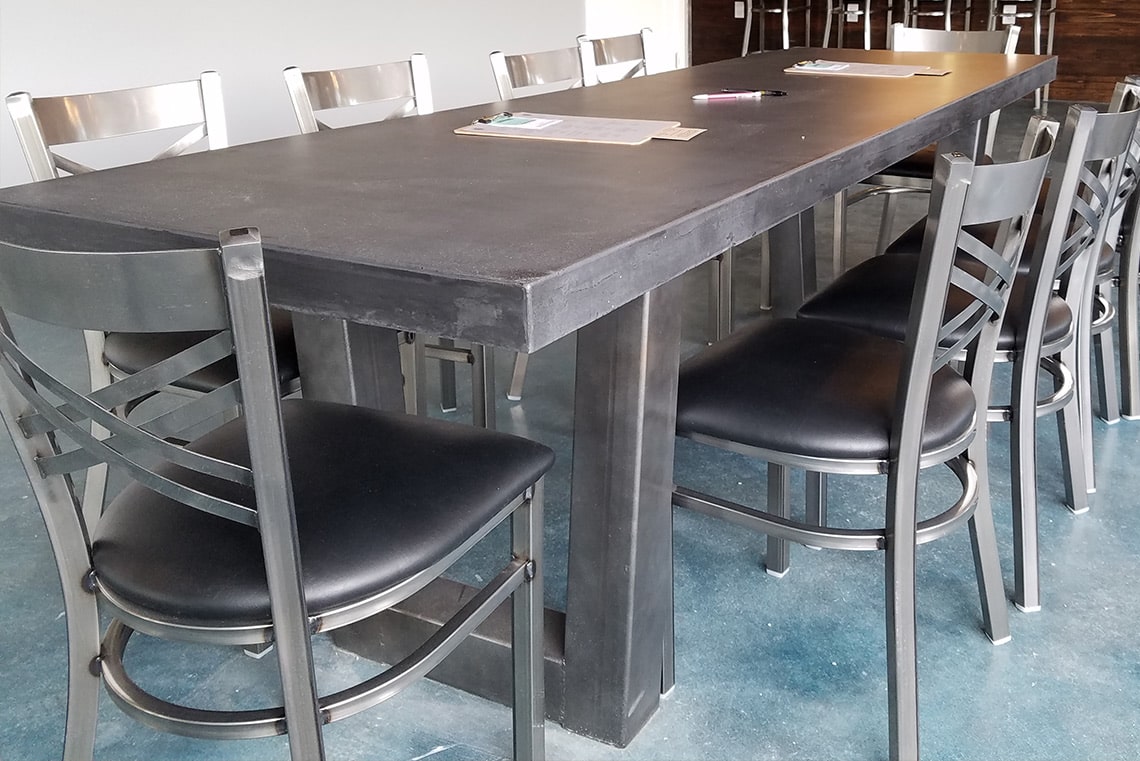 Why Concrete Is Great for Tables of All Types
When thinking about purchasing tables, most people think about wood tables, but why do what everyone else is doing? Concrete is a wonderful product that can be used for more than just sidewalks and driveways. You can use concrete mix to mold functional and beautiful furniture, such as a concrete table top, full table, or other concrete pieces of furniture.
Because of the durability of concrete, it's also a great product to use when crafting furniture for outdoor use. High-quality furniture doesn't have to only be made from wood. It's time to think creatively about how you decorate your home. Your home should be a showstopper, and Concrete Designs can help bring style, functionality, and beauty to your indoor or outdoor spaces.
We can create a beautiful table for you, whether you need a concrete work table, concrete kitchen table, concrete side table, concrete cocktail tables, or other custom furniture pieces.
Types of Concrete Tables We Custom Design and Manufacture
We can design and build concrete tables for indoor use and for an outdoor space. We can make you:
A dining table
A coffee table
An end table
A side table
A concrete tabletop
A concrete table base
In addition, we make other types of concrete furniture, concrete countertops, concrete stairs, and custom concrete art.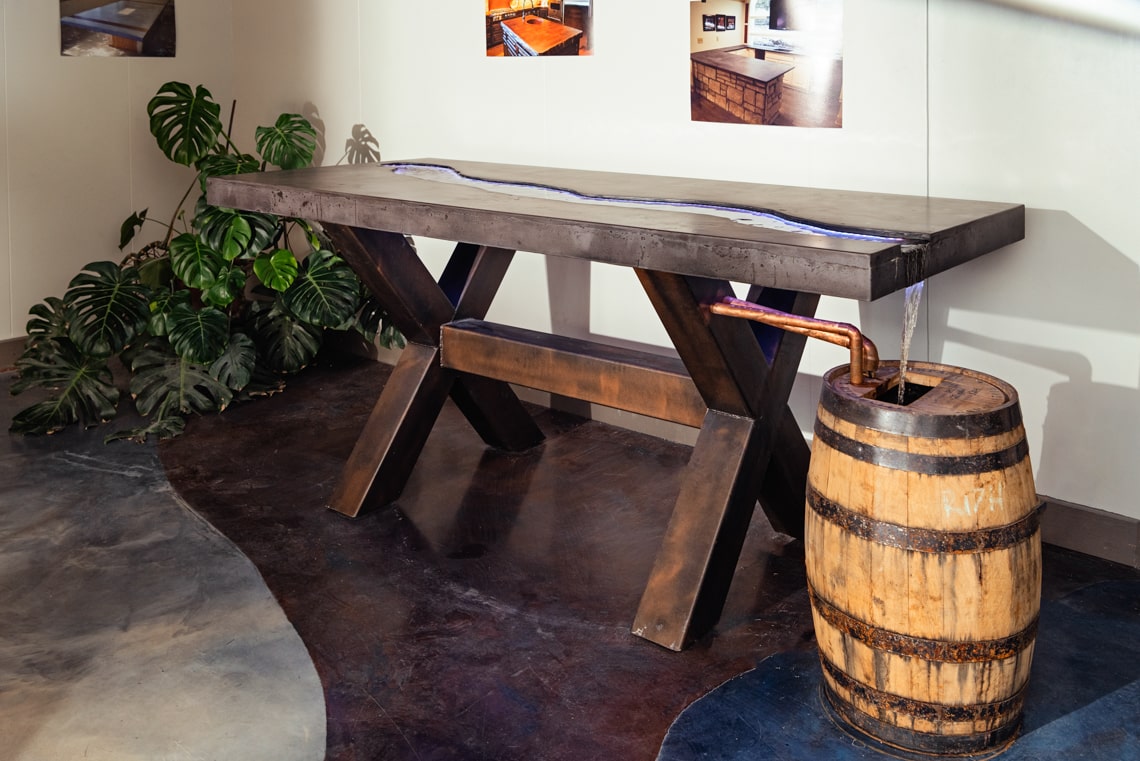 Concrete Dining Tables
One clear advantage of concrete as a furniture building material is that it is so durable and resistant to the elements, so whether you're designing a dining table for indoor or outdoor use, you can be rest assured that your furniture will be resilient and last at least a few decades. We've built outdoor dining tables for patio seating that has a waterproof base, as well, making it suitable for year-round outdoor use.
Keep in mind, however, that it's entirely possible to combine concrete with more classic dining room table materials like wood. This combination creates a modern yet timeless look that is also unique and sure to make an impression on dinner party guests or family members, over the holidays. However, it's also possible to stain concrete with the color palette of your choosing, if you're hoping to match other pieces of decor throughout your main living spaces. Because we create custom designs, the decision is truly yours to make.
Concrete Coffee Tables
As you can see from our gallery photos, the sky's the limit when it comes to coffee table design. From metallic, space-age designs to more classic shades, we can create a coffee table that fits your current aesthetic while incorporating the more modern element of concrete into your home.
If you're in need of more inspiration, browse DIY guides online or simply use your imagination! Because coffee tables are relatively small, compared to other pieces of furniture, there's a lot we can do to customize your vision, from unique inlays and inserts to any color in the rainbow.
Concrete Side or End Tables
If you're in need of customer side or end tables for the living room or bedroom, custom concrete tables could add just the right amount of uniqueness to help put the finishing touches on a room makeover. Custom concrete adds a touch of modernity that will be a welcome addition to any room. 
Because side and end tables are generally smaller than other types of tables, it makes sense to be flexible about designing the entire table in concrete or just the top. Since the tops of these tables are relatively light, you can experiment with wood, metal, bamboo, and so on. Talk to us and let us collaborate with you on the best design for each space's needs.
Concrete Tabletops 
If you decide you only need a new tabletop for your dining room table, say, or an outdoor patio dining furniture, let us evaluate your current decor and give you some options that allow you to add a little concrete flare to your current interior or exterior design.
Concrete Table Bases
Similarly, if you are simply in need of reinforcement for existing furniture in the house or you are trying to inject a little contemporary flare into your dining room or living room, it might make sense to replace current table bases with custom concrete bases, just to mix things up a bit.
Free Shipping on all orders!
Check out our concrete tables today.
Get Your Custom Concrete Table From a Kansas City Business
Our concrete tables are designed and made in the USA, which means you can trust the safety of our products, you are supporting a small business, and you have a great deal of say in the design and manufacturing process of your table. Whether you are looking for unique outdoor furniture, a special indoor dining table with just a concrete top, or you would like an entire table made from concrete, we can take unique designs from concept to finished product. It doesn't matter if you're looking for a rustic look or something more sleek and elegant, we can take your ideas of the perfect table and custom design and build you furniture art to bring your home style to a whole new level.