Custom Concrete Tables From a Kansas City Concrete Furniture Maker
Tables are useful all throughout your home, and you use them for a wide variety of purposes. For instance, you use kitchen tables and dining tables for eating, coffee tables for convenient storage of items you need in a pinch, and end tables for books and easy access while you're in bed or on the couch. Outdoor tables also serve a number of practical purposes.
It's safe to say that you use tables a lot, and you probably want your tables to last, be durable, reflect your style, and look amazing. When your tables have so much work to do, what types of tables should you furnish your home with? We think you should consider concrete tables because they can meet all of your needs.
Concrete Designs is a furniture maker in Kansas City, and we make custom concrete furniture for Kansas City area residents. We can design and create for you a custom concrete table, concrete coffee table, concrete dining table, concrete end table, or outdoor concrete table. Learn more about why you should consider getting concrete tables for your home or business.
Why Concrete Is Great for Tables of All Types
When thinking about purchasing tables, most people think about wood tables, but why do what everyone else is doing? Concrete is a wonderful product that can be used for more than just sidewalks and driveways. You can use concrete mix to mold functional and beautiful furniture, such as a concrete table top, full table, or other concrete pieces of furniture.
Because of the durability of concrete, it's also a great product to use when crafting furniture for outdoor use. High-quality furniture doesn't have to only be made from wood. It's time to think creatively about how you decorate your home. Your home should be a showstopper, and Concrete Designs can help bring style, functionality, and beauty to your indoor or outdoor spaces.
We can create a beautiful table for you, whether you need a concrete work table, concrete kitchen table, concrete side table, concrete cocktail tables, or other custom furniture pieces.
Types of Concrete Tables We Custom Design and Manufacture
We can design and build concrete tables for indoor use and for an outdoor space. We can make you:
A dining table
A coffee table
An end table
A side table
A concrete tabletop
A concrete table base
In addition, we make other types of concrete furniture, concrete countertops, concrete stairs, and custom concrete art.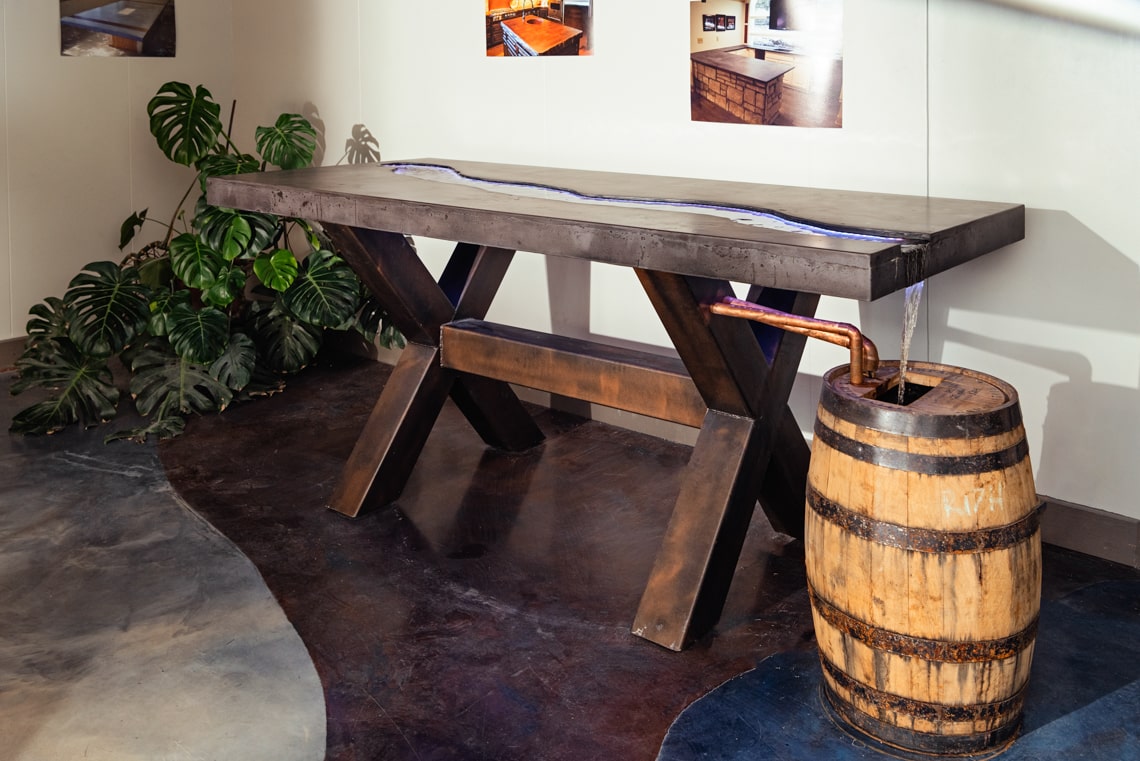 Free Shipping on all orders!
Check out our concrete tables today.
Get Your Custom Concrete Table From a Kansas City Business
Our concrete tables are designed and made in the USA, which means you can trust the safety of our products, you are supporting a small business, and you have a great deal of say in the design and manufacturing process of your table. Whether you are looking for unique outdoor furniture, a special indoor dining table with just a concrete top, or you would like an entire table made from concrete, we can take unique designs from concept to finished product. It doesn't matter if you're looking for a rustic look or something more sleek and elegant, we can take your ideas of the perfect table and custom design and build you furniture art to bring your home style to a whole new level.