Concrete Designs is the top choice when it comes to custom concrete sinks. We create beautiful, custom-made concrete sinks that are perfect for any kitchen or bathroom. Custom-made concrete sinks and vanities are not only functional but are also a work of art.
A beautiful concrete farmhouse sink might be the perfect addition to create your truly unique kitchen. Spruce up your bathroom with a custom-made, zero-depth sink that leaves you always wanting to wash your hands. A new design will change the entire look of your space and why not do it with a custom-made concrete sink.
Structurally, concrete is one of the strongest and most versatile materials available. In recent years, concrete has gained attention for its versatility when it comes to interior design as well. Concrete's neutral and sculptural aesthetic has become a favorite in industrial, contemporary, and even farmhouse interiors. Concrete can be incorporated into just about any home or business thanks to its limitless options for customization.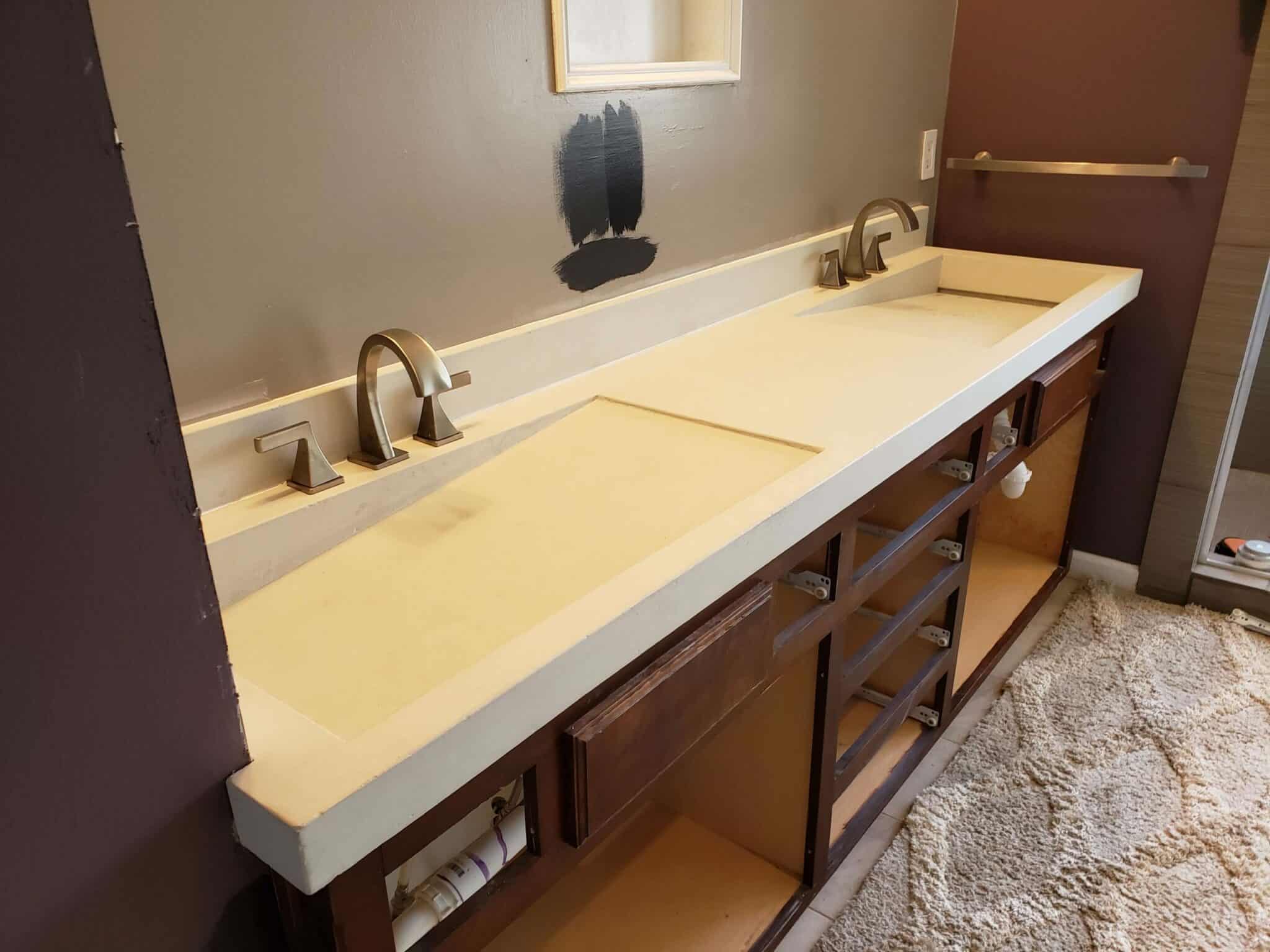 Free Shipping on all orders!
Find Your New Sink Today.
Why Would You Want a Custom Made Concrete Sink?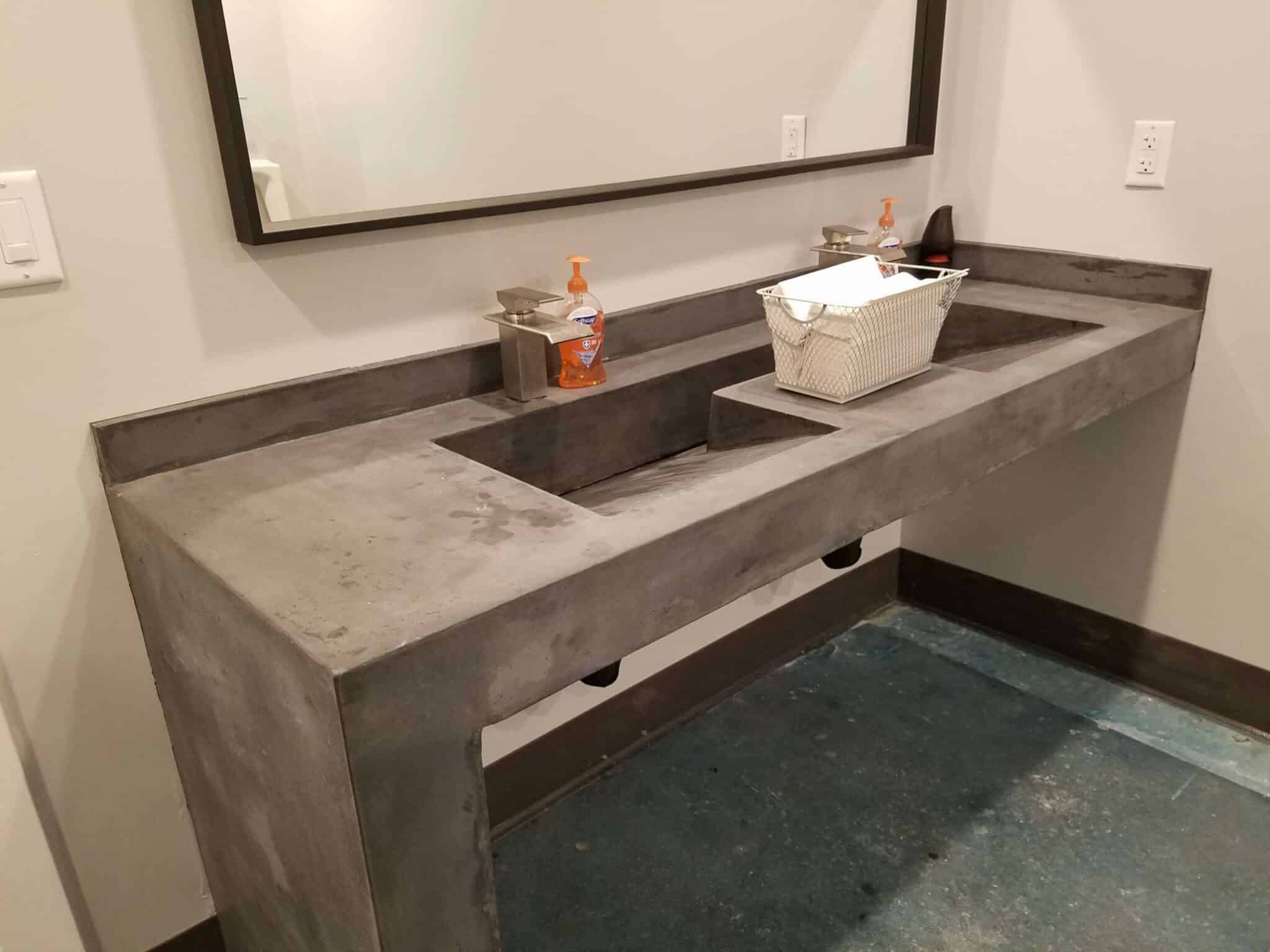 We're glad you asked. When it comes to concrete sinks no two sinks are alike. Each of our concrete sinks are custom made to order. Concrete sinks are durable and built to last so, as a homeowner, you know you have made a wise investment. Concrete sinks also allow an abundance of opportunities for design and customization whether you are looking for a farmhouse sink or an impressive zero-depth concrete sink. Here are just a few reasons why you would want a concrete sink in your bathroom or kitchen:
It is nearly impossible for most countertop surfaces to integrate a sink seamlessly like concrete. An integrated concrete sink eliminates the seam between the sink and counter, which eliminates the crevasse from collecting scum around your sink opening.
Concrete sinks are totally customizable as well. Whether you are looking for a double basin sink, ramp sink, or a zero-depth basin sink they can be made to fit just about any size and color you would like. If you can't find what you are looking for, contact us because we work with you to design the concrete sink you are looking for.
Concrete sinks utilize standard plumbing so nothing needs to be rebuilt to make it work.
Our concrete sinks are built with the highest quality sealer. This sealer protects your concrete sink to help it not wear down or require resealing.
Concrete sinks are extremely durable, typically lasting upwards of 60 years with proper maintenance.
A custom concrete sink will add value to your home over a standard prefabricated sink. As a homeowner, it is important to maintain or increase your property value. It will also add value in the fact that it truly represents you as a homeowner. Making your home unique and reflective of your personality. A custom concrete sink vanity will never be the wrong choice. We have something for everyone's style. Take a look at some of the sinks in our gallery we have created.
There are many benefits of a custom make concrete sink over prefab:
You can make your custom concrete sink the color you want.
Custom concrete sinks can incorporate unique features such as led lighting.
Depth sizes can be your choice from standard concrete basin, zero-depth concrete basin, or even a ramp sink.
There are nearly endless design options when working with concrete, including different shapes, such as a circular sink, egg shape sink, or barrel sink.
From concrete farmhouse sinks to concrete vanity tops, the artisans at Concrete Designs are here to make your vision come to life for your kitchen or bathroom. Call us today to schedule an appointment with us!
Call Concrete Designs for Custom Concrete Sinks in Kansas City
From concrete farmhouse sinks to concrete vanity tops, the artisans at Concrete Designs are here to make your vision come to life for your kitchen or bathroom. Concrete Designs is the preferred choice for custom-designed concrete sinks—including concrete bathroom sinks and kitchen sinks. Our artisans take pride in creating pieces that are not only functional but a piece of art, a conversation starter, a one-of-a-kind element that complements your lifestyle and your aesthetic taste. Curious to learn more? Call us today to set up an appointment and become immersed in the process of designing your very own functional concrete art.
We're located in the heart of the nation, and we ship to all contiguous 48 states so take a look and learn how to create a new look for your kitchen or bath.