Concrete Sinks Beautiful, Custom, & Made in Kansas City
At Concrete Designs, we create beautiful, custom-made concrete sinks and concrete vanity tops for homeowners and business owners throughout the Kansas City area.
Structurally, concrete is one of the strongest and most versatile materials available—but concrete isn't just for parking garages and skate parks. In recent years, concrete has gained attention for its versatility when it comes to interior design as well. Concrete's neutral and sculptural aesthetic has become a favorite in industrial, contemporary, and even farmhouse interiors. However, it can be incorporated into just about any home or business thanks to its limitless options for customization.
Concrete Designs is the Kansas City area's preferred choice for custom designed concrete sinks—including concrete bathroom sinks and kitchen sinks. Our artisans take pride in creating pieces that are not only functional but a piece of art, a conversation starter, a one-of-a-kind element that complements your lifestyle and your aesthetic taste. Curious to learn more? Call us today to set up an appointment and become immersed in the process of designing your very own functional concrete art.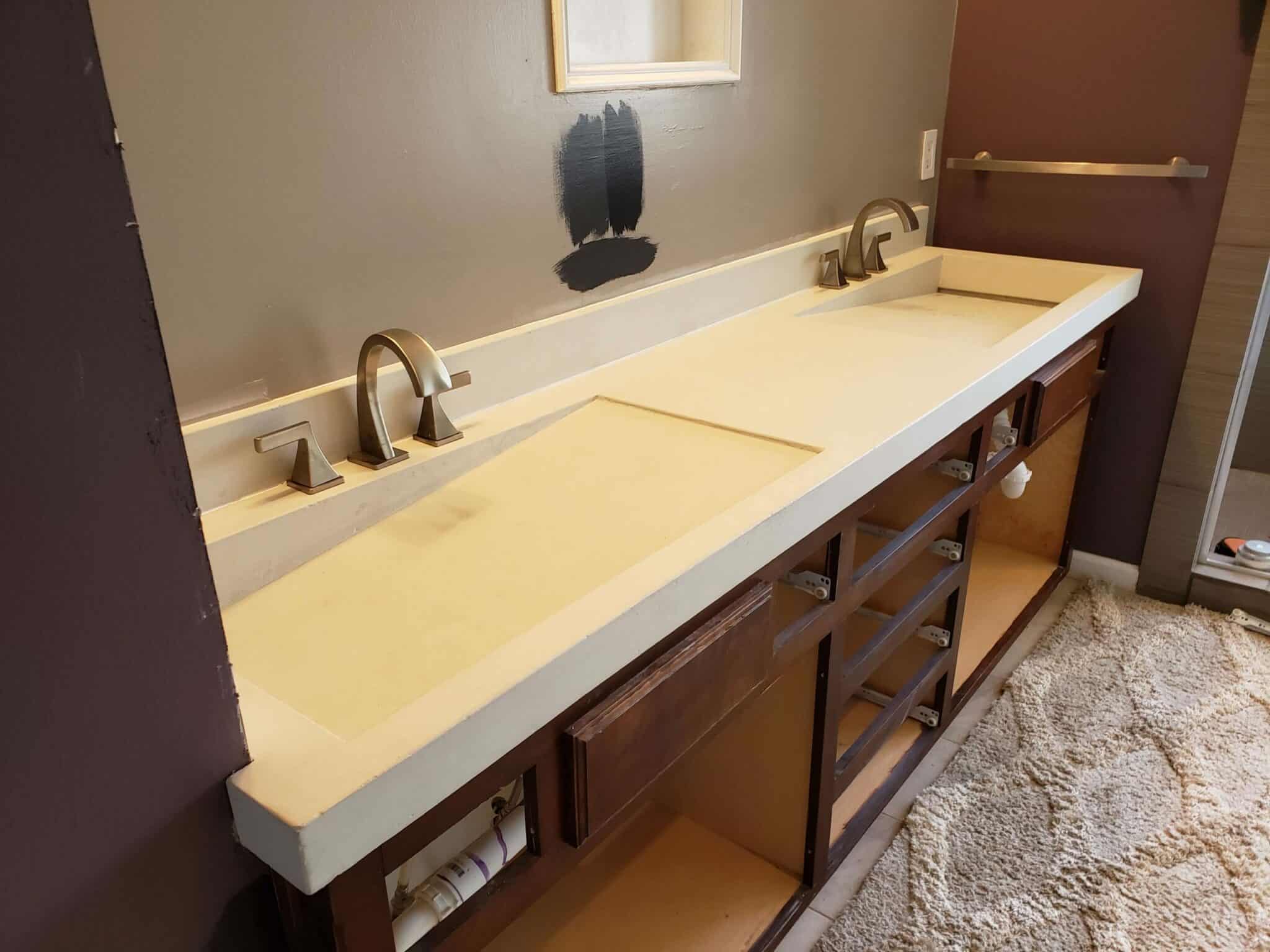 Free Shipping on all orders!
Find Your New Sink Today.
Why Would You Want a Concrete Sink?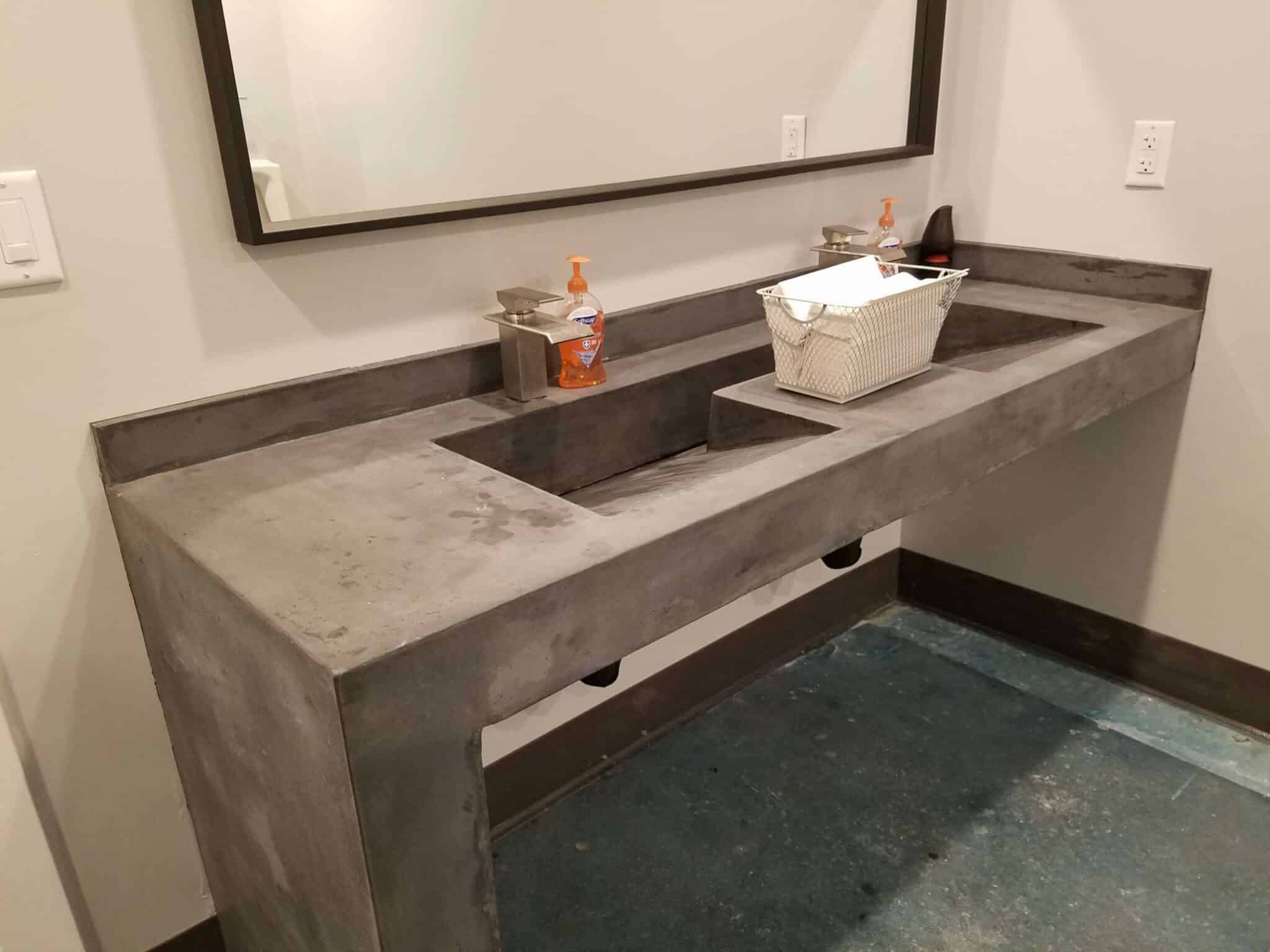 We're glad you asked. When it comes to concrete sinks, no other material comes close to the capabilities of the surface. Not only are concrete sinks durable and built to last, but they also provide an abundance of opportunities for design and customization. Here are just a few reasons why you would want a concrete sink in your bathroom or kitchen:
It is nearly impossible for most countertop surfaces to integrate a sink seamlessly like concrete. An integrated concrete sink eliminates the seam between the sink and counter, which eliminates the scum collecting crevasse around your sink opening.
To top that off, a concrete sink can take on virtually any shape you can think of. Some common concrete sinks are ramp, wave, and spiral sinks, and these are just commercially available forms. We can also create one-of-a-kind sinks specifically for you.
Concrete sinks utilize standard plumbing, but they can also incorporate slot drains and hidden drains.
Our concrete sinks are completely water-proof and won't wear down or require resealing under normal use.
Concrete sinks are extremely durable, typically lasting upwards of 60 years with proper maintenance.
Why a Custom Sink vs. Prefabricated?
A custom sink is going to add value to your home over a prefabricated sink. People love having something no one else has, so you will be increasing your property values by incorporating a custom concrete sink. A custom concrete sink vanity also allows you to get the look you are truly going for rather than settling for a kitchen or bathroom sink that doesn't exactly fit your style or space.
Other benefits of custom over prefab:
You can incorporate custom colors or concrete stains in your sink.
You can choose a unique depth, texture, or patina, and you can make your sink a work of art.
There are nearly endless design options when working with concrete, including different shapes, such as a circular sink or irregularly-shaped sink.
Call Concrete Designs for Custom Concrete Sinks in Kansas City
From concrete farmhouse sinks to concrete vanity tops, the artisans at Concrete Designs are here to make your vision come to life for your kitchen or bathroom. Call us today to schedule an appointment with us!