Concrete Designs is the top choice when it comes to custom concrete sinks. We create beautiful, custom-made concrete sinks that are perfect for any kitchen or bathroom. Custom-made concrete sinks and vanities are not only functional but are also a work of art.
A beautiful concrete farmhouse sink might be the perfect addition to create your truly unique kitchen. Spruce up your bathroom with a custom-made, zero-depth sink that leaves you always wanting to wash your hands. A new design will change the entire look of your space and why not do it with a custom-made concrete sink.
Structurally, concrete is one of the strongest and most versatile materials available. In recent years, concrete has also gained attention for its versatility in interior design. Concrete's neutral and sculptural aesthetic has become a favorite in industrial, contemporary, and even farmhouse interiors. Concrete can be incorporated into just about any home or business thanks to its limitless options for customization.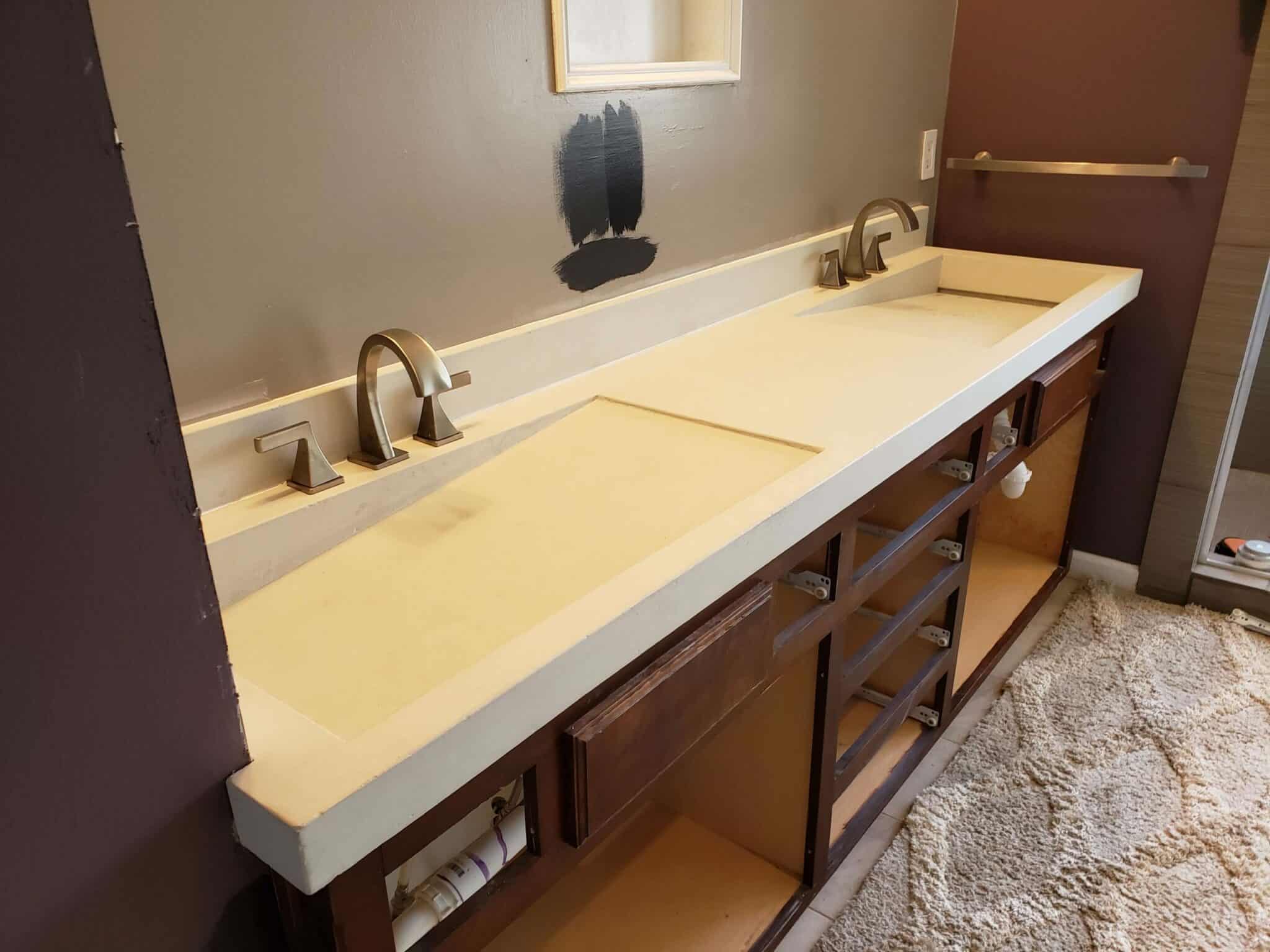 Free Shipping on all orders!
Find Your New Sink Today.
Our Custom Concrete Sink Fabrication Process
At Concrete Designs, we craft concrete sinks designed to last. As concrete is a natural material, we make each concrete sink unique. Our custom concrete sink fabrication process ensures the concrete sink meets your desired design specifications exactly.
To accomplish this, we use molds to create concrete casts of one-of-a-kind designs. Afterward, the cast is placed in our specially constructed drying area for several days until it's ready for finishing touches like sealing and polishing. With every concrete sink we construct, you can expect exquisite detail and quality that will elevate any space.
A Completely Custom Creation or A Prefabricated Basin
With concrete sinks becoming increasingly popular in both residential and commercial spaces, Concrete Designs offers the best of both worlds with either a completely custom creation or a prefabricated concrete basin. This allows customers to create their desired concrete sink at their own convenience without sacrificing the quality and charm of a handmade concrete piece.
Our concrete basins are made from top-grade concrete and come with a sealed waterproof finish that will stand up against any kind of wear and tear. Whether you choose custom or pre-fabricated, Concrete Designs' concrete basins provide exceptional design and lasting durability for your home or business.
Custom Concrete Sinks for Commercial or Residential Use
Concrete Designs' Custom Concrete Sinks are the perfect addition to any commercial or residential space. These unique sinks are handcrafted by experienced craftsmen and are sure to impress any guest. Not only are they visually stunning, but they are also highly durable and require very little maintenance. Whether you're looking to upgrade your home kitchen or enhance your restaurant's bathroom, these custom concrete sinks offer both style and practicality.
When it comes to outfitting a commercial space, the details really do matter. Whether you're designing a restaurant, hotel or other business, every single element can impact the overall look and feel of the space. That's why concrete commercial sinks are such a great choice. They are incredibly durable and long-lasting and can also be customized to fit seamlessly with the rest of your design aesthetic. Plus, with a wide range of shapes, colors, and finishes available, you can find a concrete sink that perfectly meets your needs and elevates your space.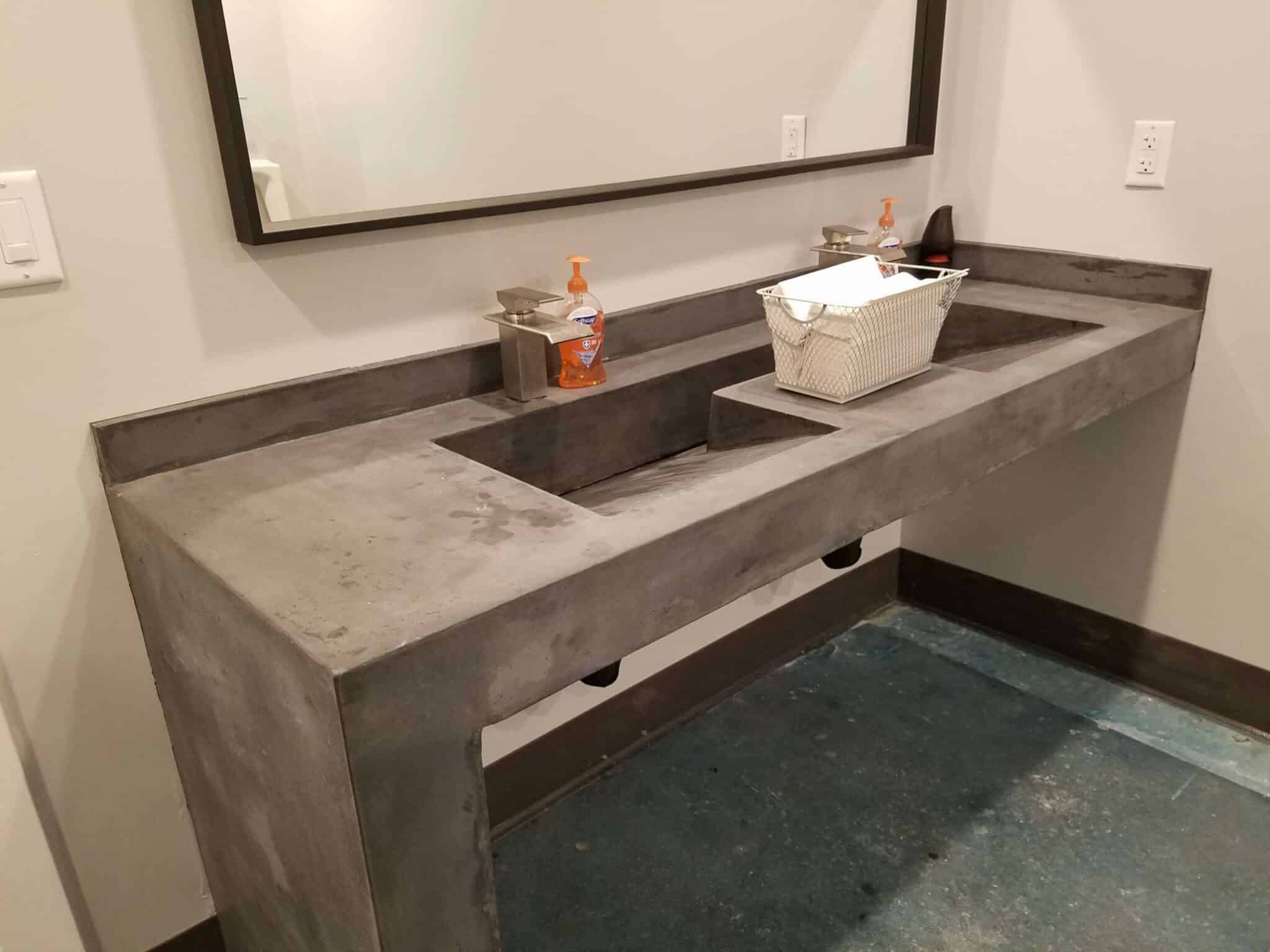 The Concrete Designs Advantage
If you're looking for a unique, one-of-a-kind concrete sink, you should look no further than Concrete Designs. Our custom hand-made concrete sinks come in an impressive range of shapes, sizes, and styles so every home has something that fits their tastes. These concrete creations are also incredibly sturdy and durable - perfect for any bathroom or kitchen countertop. With all these amazing features from Concrete Designs, you'll get a dream concrete sink that will stand the test of time!
Hand-Made Concrete Sinks
Having your concrete sink hand-made can be a fantastic advantage when it comes to customizing the design of your bathroom or kitchen. Hand-made concrete sinks have the ability to be made in almost any shape and size – offering flexibility, something the mass-produced concrete sinks simply cannot match. Plus, utilizing the latest concrete technology makes these works of art durable and long-lasting.
Seamless Integration with Your Countertop and Your Style
Unlike other materials, concrete offers seamless integration with your existing countertop for a consistent, stylish look. Plus, concrete is incredibly durable and easy to customize, so it can be tailored to fit any design, from modern to traditional. The possibilities are virtually limitless!
Not only is concrete stain and scratch resistant, but because concrete is customizable and water-resistant it also provides the perfect foundation for various color palettes, textures and finishes. When you're looking for that perfect concrete sink that fits both your functional kitchen needs and style tastes, concrete sinks offer an unmatched combination of beauty and flexibility.
Luxury and Durability
Concrete sinks are a versatile and durable way to add luxury to your home and can easily elevate any bathroom or kitchen. Made of concrete, they are strong enough to withstand general wear and tear while resisting bacteria growth and staining. Because of the flexibility of concrete regarding shapes and sizes, they allow you to customize the look of your home while making a bold statement.
Concrete sinks can also be left raw for a unique industrial look or finished with polished concrete for a more modern feel. Either way, concrete sinks will provide superior durability without compromising style.
Call Concrete Designs for Custom Concrete Sinks in Kansas City
From concrete farmhouse sinks to concrete vanity tops, the artisans at Concrete Designs are here to make your vision come to life for your kitchen or bathroom. Concrete Designs is the preferred choice for custom-designed concrete sinks—including concrete bathroom sinks and kitchen sinks. Our artisans take pride in creating pieces that are not only functional but a piece of art, a conversation starter, a one-of-a-kind element that complements your lifestyle and your aesthetic taste. Curious to learn more? Call us today to set up an appointment and become immersed in the process of designing your very own functional concrete art.
We're located in the heart of the nation, and we ship to all contiguous 48 states so take a look and learn how to create a new look for your kitchen or bath.