Bring Style Into Any Room With a Concrete Table
Don't limit yourself to the bathroom vanities or countertops, you can bring your personality and style to any room with a concrete table. Concrete's ability to fit a wide variety of styles makes it a unique material to create concrete dining room tables, concrete coffee tables, concrete tables for restaurants, or concrete tables for outdoors as well. Concrete can also be used to create concrete reception desks or workstations. Just like our other products, we can help you add your own unique style to your table.
Concrete Designs wants to help you bring a unique look to your home's spaces, and concrete provides texture, color, and flair to table surfaces of all types. Contact us today to learn more about obtaining a custom concrete dining table, concrete outdoor table, or other modern concrete furniture.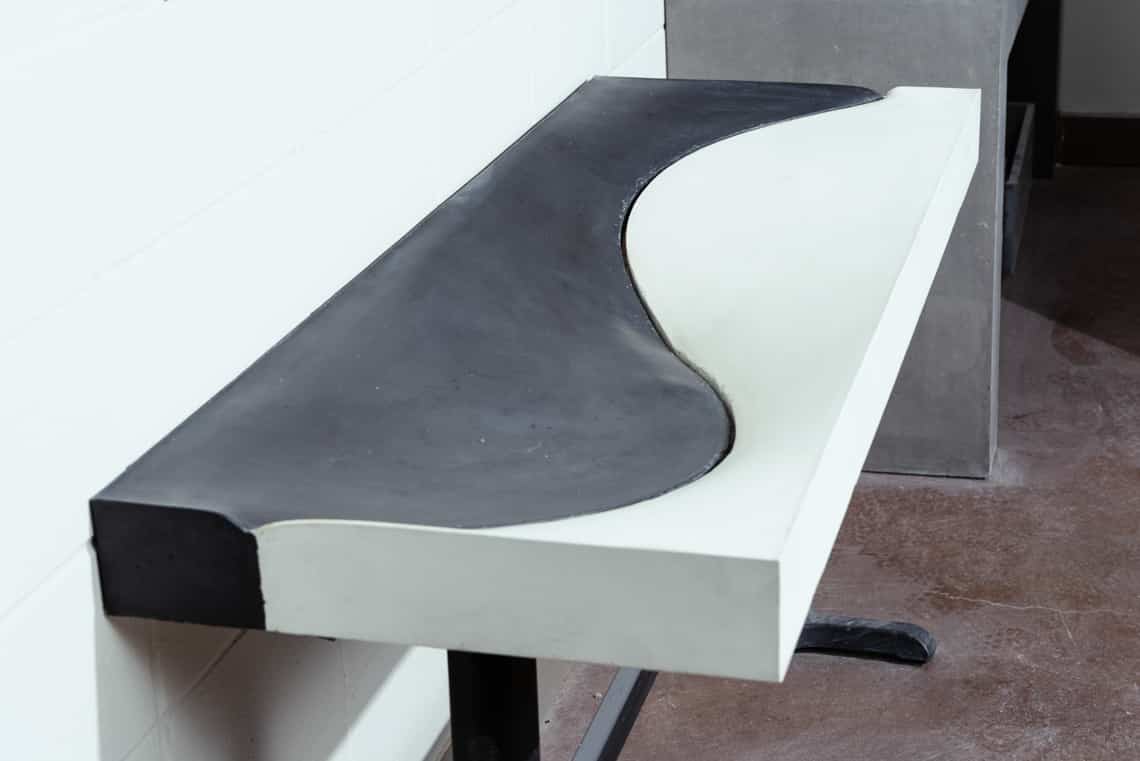 Reasons to Consider a Custom-Made Concrete Table
Shopping for a table, whether it is a dining table, coffee table, or end table can feel like an impossible task. Trying to find something to fit your style, color palette, budget restrictions, and space requirements? All of these considerations can make the process of table shopping overwhelming, with underwhelming results. But custom concrete solutions are available from Concrete Designs. Not only can we build you a table that fits your space, budget, design style, and other requirements, but also you can help us design the unique concrete table that meets the vision you see in your mind.
We make concrete side tables, concrete kitchen tables, concrete table tops, and even outdoor tables with concrete chairs. If you can imagine it, we can bring it to life. Plus, there are many great reasons to choose concrete furniture over other furniture options.
Here are some reasons to buy a concrete table:
Concrete Designs uses a special, super-high strength mix to create durable tables and tabletops.
You get to help design a table for your space and personality.
You get it the exact size you need, with the color, shape, and design elements that make your designer's heart happy. All of it is custom-made just for you.
Your table will be unique. No person on Earth will have the same table that you have.
An ordinary wooden table just doesn't compare to the wow factor of a beautiful table made with concrete mix.
A concrete table is a piece of artwork, the perfect addition to any area of your home.
Whether you want a rustic look for an outdoor space, an elegant look for a formal dining room, or a sleek modern design for a living room, the look of concrete is sure to please you and your guests.
Concrete works great for outdoor use because of its sturdiness. Use it for an outdoor dining room table, a concrete bench in the garden, patio furniture, or other outdoor furniture that creates more living space for you and your family.
How to Make a Concrete Coffee Table
At Concrete Designs, we will walk you through the process of designing the perfect table for you. We can help you design it from scratch, or you can provide us your inspiration from a photo, a group of photos, or an idea. No matter the amount of design help you need, we are here for you. Once a design and details are decided on, our team will get to work creating your one-of-a-kind cement table, then we will carefully package and ship it right to your door!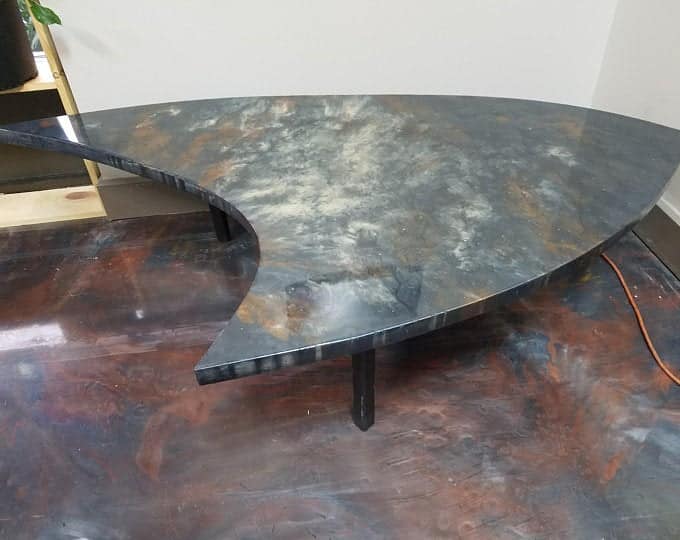 We Look Forward to Your Concrete Table Top Project
Showcase your own style through the versatile materials of concrete mix! Get the finished product you've been waiting for in a concrete table top or a custom concrete table. As you know, our belief is no table or countertop should be alike. We have a special tool to help with that process. Use our calculator. Then email us your results and we will help you finalize your costs.
Free Shipping on all orders!
Build your own custom tabletop.