Concrete Fire Pits for Any Style
The backyard has become the perfect place for entertaining at home. With an open-air fire and plenty of space to allow guests their own privacy, it's no wonder people love spending time out there under the starry night sky! Let Concrete Designs build that same feeling in your very own backyard - with our custom concrete fire pit.
Concrete fire pits are designed to fit your needs and your style. Whether you are looking for a fire pit that everyone can stand around and have a drink, or a cozy fire pit for your closest friends and family members, Concrete Designs can make your ideal custom fire pit. A great fire pit brings people together and provides literal and emotional warmth for all. Not to mention, a concrete fire pit is durable, beautiful, unique, and will be custom-made to your exact style and instructions.
Fire pits are a must-have feature of any backyard. They are perfect for showing off your unique style and creating the perfect ambiance for a get-together. Choose the size, colors, and materials of your new fire pit that will turn your space into a backyard family room. Connect with Concrete Designs today to tell us about your vision for an outdoor custom concrete fire pit that will elevate your backyard to legendary status.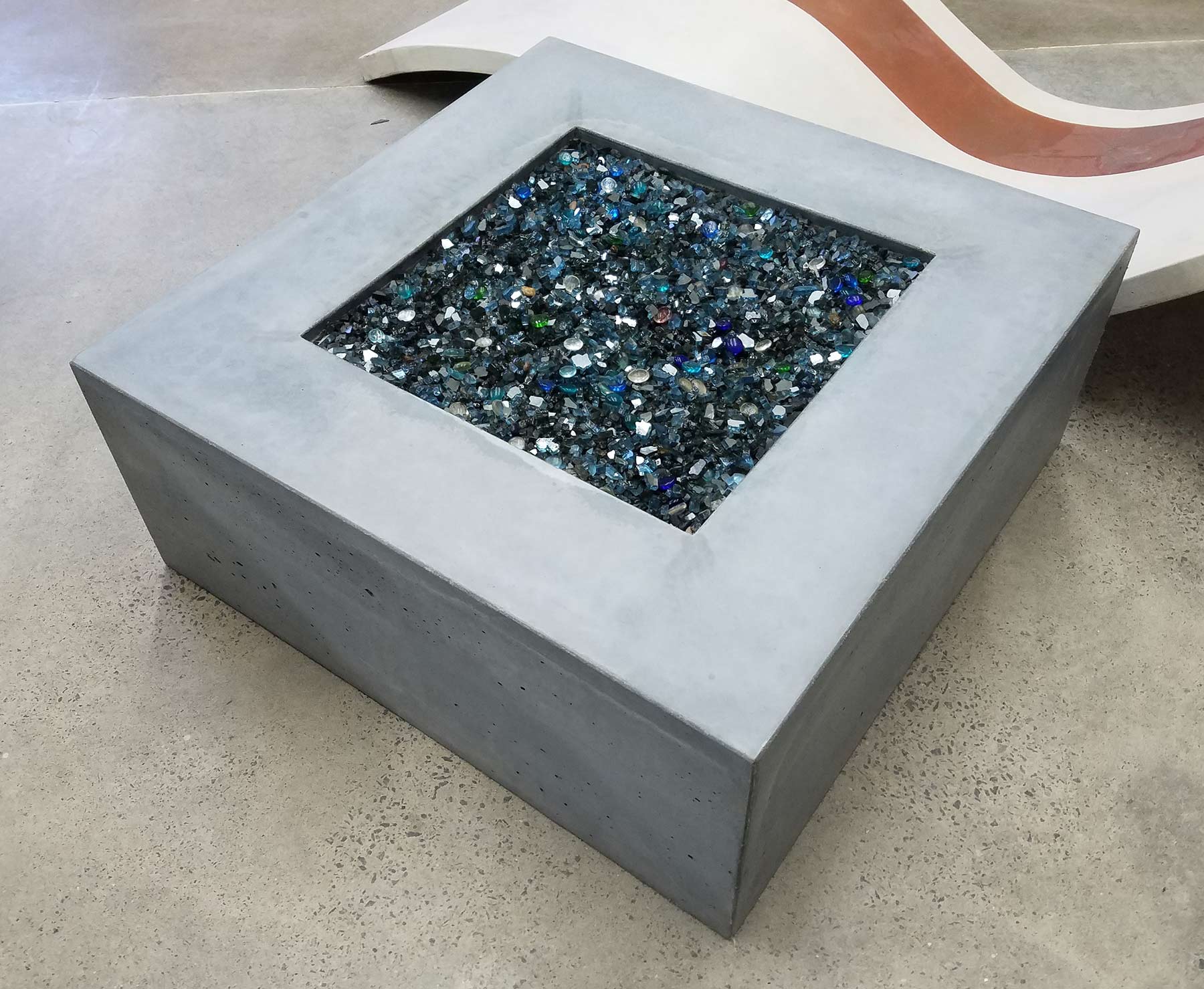 Concrete Firepits - Ordered Online and Shipped to Your Door
At Concrete Designs, we take pride in creating custom concrete firepits that are perfect for bringing warmth and ambiance to your outdoor space. From start to finish, our firepits are hand-made by our skilled team of craftsmen, ensuring every detail is carefully considered. And the best part? You can order your custom firepit online from the comfort of your home and have it shipped directly to your doorstep.
Whether you're entertaining guests or enjoying a quiet night in, our firepits are a stunning addition to any backyard setup. With Concrete Designs, you can trust that you're getting a high-quality, one-of-a-kind firepit that's made just for you.
Outdoor Fire Pits for Any Time of Year
Outdoor fire pits are a great addition to any home's outdoor space. They provide a focal point for gatherings, create a warm and inviting ambiance, and can be used for both cooking and heating. Fire pits come in a variety of styles, from rustic stone pits to sleek concrete installations, so there is sure to be one that fits your outdoor space.
One of the great things about outdoor fire pits is that they can be used year-round. In the colder months, they provide warmth and light, while in the summer they can be used for cooking and entertaining. No matter what time of year it is, an outdoor fire pit is always a welcome addition to your outdoor space.
Improve Your Outdoor Living Space With A Concrete Firepit
What kind of space do you want in your backyard? Do you want a cozy, intimate area with a small fire pit where everyone can snuggle up and be close? Maybe you're looking for an entertainment table that becomes their favorite hangout and turns it into the perfect destination place for friends & family. 
Backyards are the place to relax and have fun with friends and family, and adding a custom fire pit can make it the perfect outdoor living space. The custom concrete fire pit you design will give your outdoor space a centerpiece to be proud of. You can enjoy it while entertaining or just taking a moment to yourself. Your personalized fire pit will showcase your unique style and personality that will set your backyard apart from your neighbors. 
Take time to explore your backyard and its possibilities. Would you like a cozy intimate area with a small fire pit where everyone can snuggle up and be close? Or maybe you prefer a larger entertainment table with a fire pit that becomes your favorite hangout and turns your home into a destination place for friends and family. 
Concrete Designs offers many varieties of fire pits to choose from since we hand make all our custom concrete fire pits. Here are some of the types of fire pits we can make: 
Concrete wood burning fire pits in any size, style, or shape (even custom shapes) 
Concrete gas fire pits in any size, style, or shape (even irregular shapes) 
Concrete propane fire pits in any size, style, or shape (even irregular shapes) 
Concrete fire pit table 
Round concrete fire pits, square concrete fire pits, rectangular concrete fire pits, or irregularly shaped concrete fire pits
Why Choose a Concrete Fire Pit
At Concrete Designs, each fire pit we create has its own personality and style that's designed to match yours. Our concrete fire pits are incredibly strong and well made. We start with a durable base that can withstand the outdoor elements and provide a firm foundation. Through color choice, materials, product type, and the overall layout, you'll receive the custom made fire pit you've been looking for that is one of a kind.
Our custom made concrete fire pits have the ability to endure all your outdoor evening activities as well as all the rough and tough weather that comes your way. Tell us what you want, and we will do our best to make it happen. Give us a call or use the contact us form, and you will be roasting marshmallows or celebrating an event with your loved ones in no time!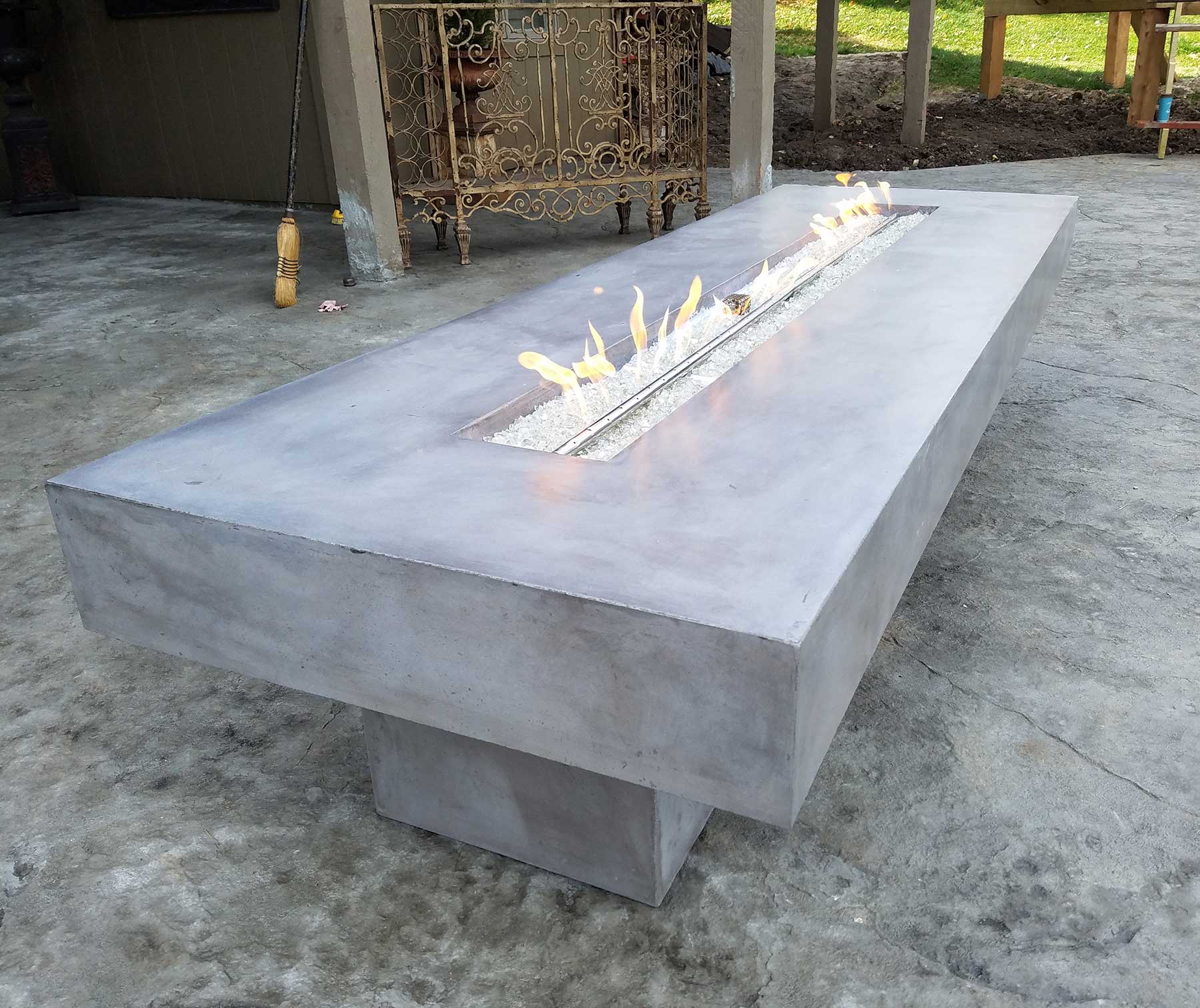 Free Shipping on all orders!
Start the fire today.
How Much Do Concrete Fire Pits Cost?
Many different factors play into the cost of a custom fire pit created using concrete mix. The overall product weight, size, and customizations are a few factors. You'll also want to decide between a simple or ornate design. If you add additional products and features to your fire pit, such as specific materials you would like embedded in the concrete, those could also be factored into the costs. We believe our concrete designs are affordable, unique, and well worth the expense. Concrete Designs is excited to begin working on your unique fire pit. 
Contact us today and we'll be happy to discuss everything you need to know about building your fire pit, including the costs.