Concrete Designs' Showroom in Kansas City
Concrete Designs is located in Lenexa, KS, a suburb of Kansas City. We welcome you to set up an appointment to visit our concrete showroom. It is filled with our unique pieces that include concrete fireplace surrounds, concrete sinks, and even a concrete tabletop with a water stream. Our countertop showroom will show you different possibilities and the opportunity to speak with one of our artisans to create one of your own. We work with you to create projects such as concrete vanities and sinks, concrete tabletops, concrete firepits, concrete fireplace surrounds - you dream it and we will say, "How can we make this?" We won't stop asking until we have made it into a reality.
Our concrete showroom will show you the creative lengths we go to in order to make what you imagine and bring it to life. If you can't make it to our showroom look through all our galleries and get in contact. We may be located in the Midwest but we offer free shipping to all the 48 contiguous United States. We are a small business that works as hard as you do. Our passion is creating custom decorative custom concrete pieces for our clients.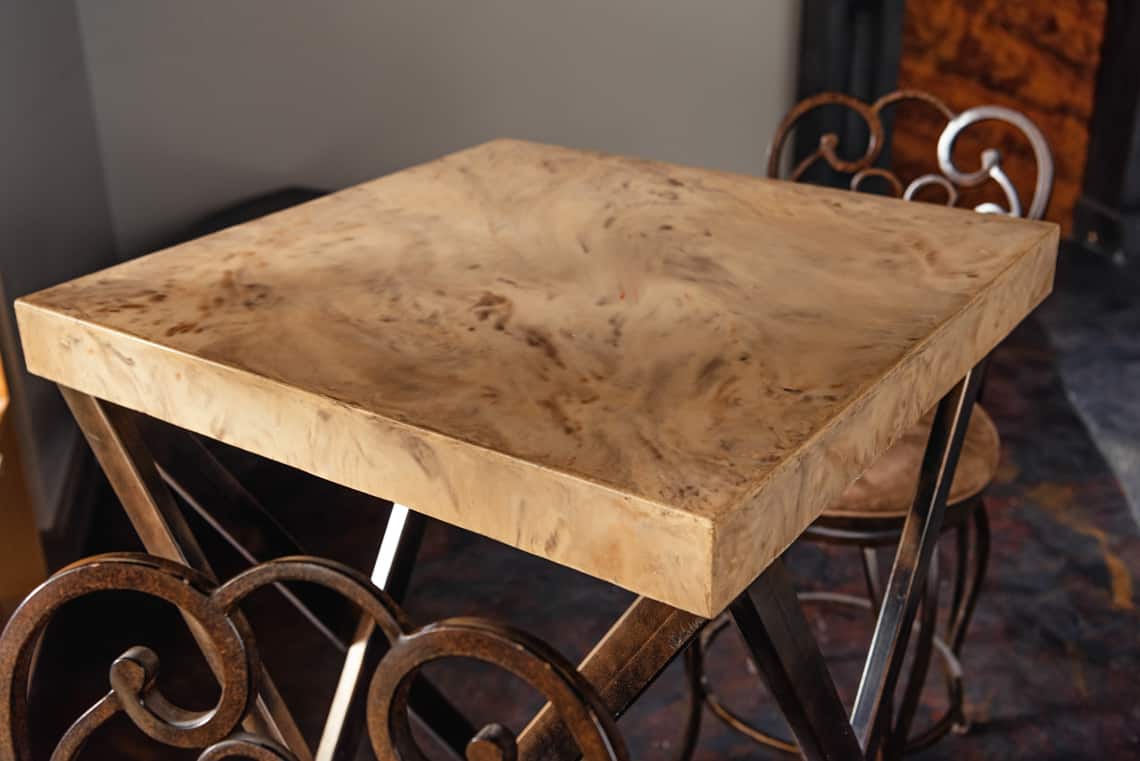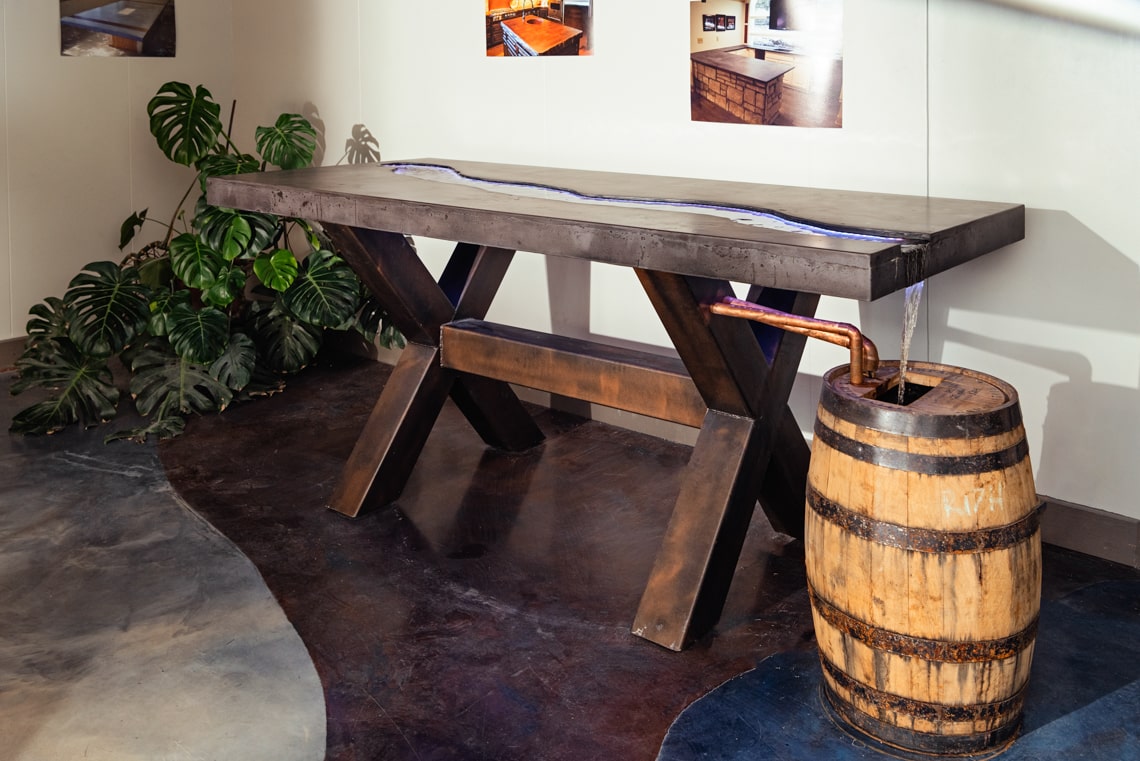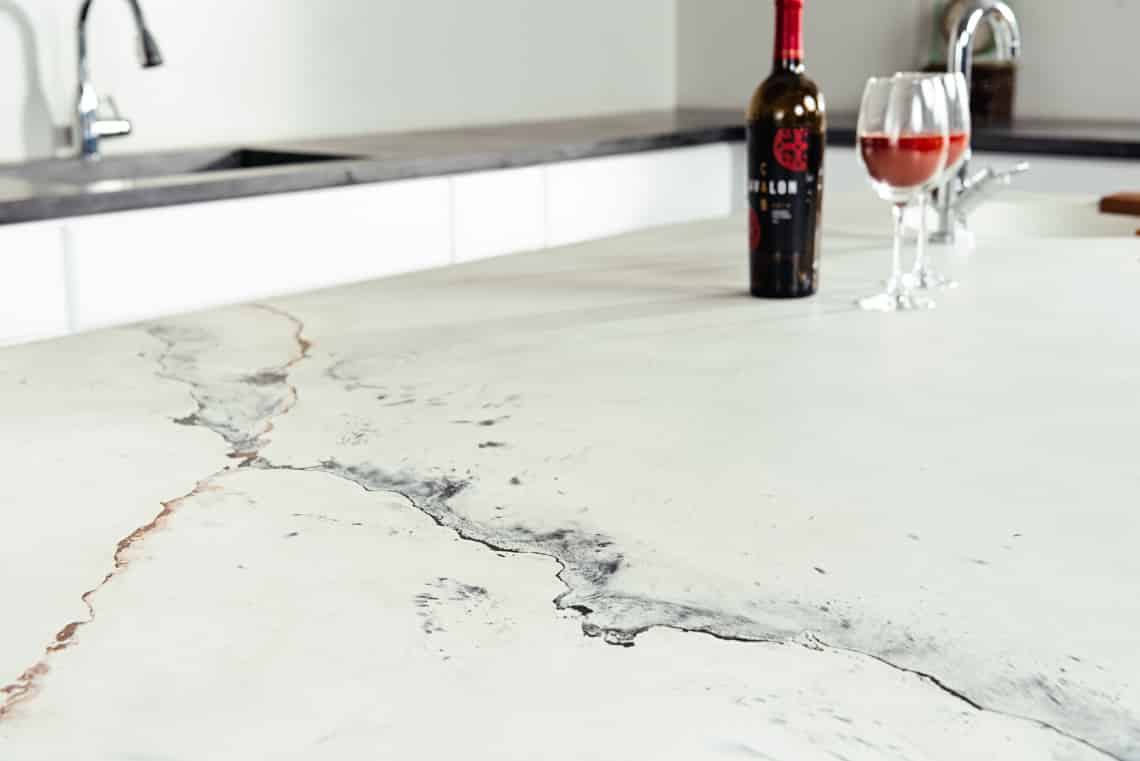 Free Shipping on all orders!
Browse our products.
Not just a Showroom
Looking through our concrete showroom you will notice not only how beautiful everything is but also what it does to your own creativity. You'll begin to feel the juices flowing as you realize as you look through the sink showroom you may find the kitchen sink you've dreamed of and it can be yours. Not only can it be yours but it will be custom built the way you want it.
Look through our online showroom and let your mind and spirit create your new space whether it be a concrete zero-depth sink in your bathroom or a concrete farmhouse sink in your kitchen. Pictures are worth a thousand words so take a look at our pictures, watch the videos and learn how a custom concrete fireplace surround, countertop, sink, or anything from Concrete Designs will enhance your home. You will see the stunning beauty and dedicated craftsmanship that goes into the creation of every piece.
Look around our virtual concrete showroom and contact us. It's a great time to start the process of designing and creating your own Functional Concrete Art.
Concrete Sinks, Countertops, Furniture, and More
From sinks and countertops to furniture and art, Concrete Furniture's showroom has a wide range of concrete creations on display. And if you don't see something that you like, we can work with you to create a custom piece that meets your specific needs. So whether you're looking for a unique gift or a statement piece for your home, Concrete Furniture's showroom is the place to visit.
Take a look at our custom concrete work...