Custom Concrete Countertops
Elevate your style and give any room in your home a unique look with a custom concrete countertop. Concrete countertops can make any room more functional and beautiful. Turn your kitchen into a showroom that will make you feel like a celebrity chef, or add a concrete countertop to the workspace in your garage to give the impression that you can make anything! Not only is concrete strong and durable, it is also stylish and truly customizable to you. 
If you are the type of person who wants a custom look in your home, concrete may be the medium for you. Concrete allows you to be a part of the design process, resulting in a design solution that is unique to the client. Every detail—from shape and color to pattern and thickness—reflects the personality and style of each individual client.
To learn more about how Concrete Designs custom designs each project, reach out to our concrete design contractors now. We know you will be happy with the products and services we have to offer.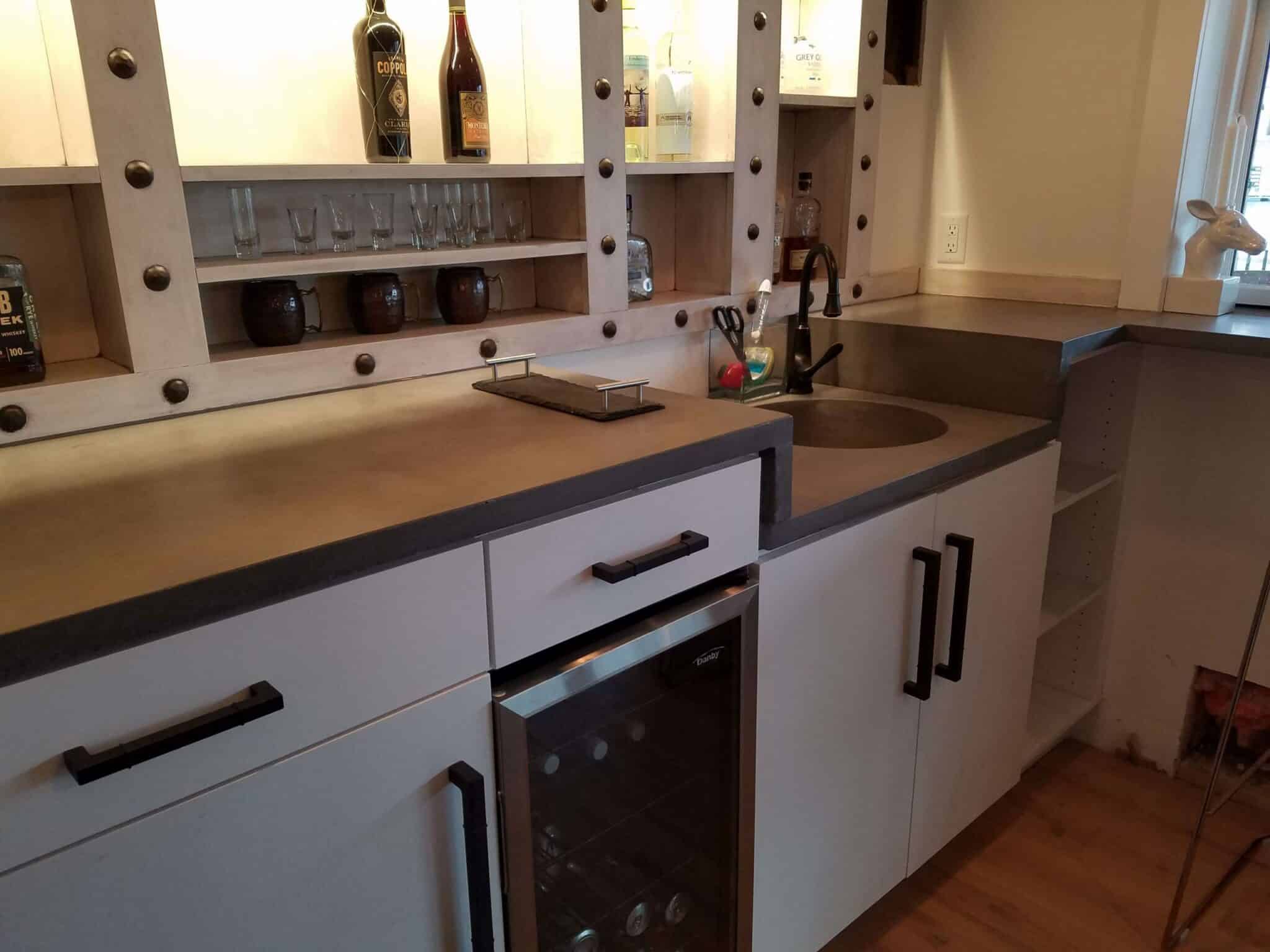 Reasons to Use Concrete for Custom Countertops
Custom concrete countertops make your home uniquely yours - you will have a countertop that is like no one else. You can achieve the exact look you're going for with a custom concrete countertop thanks to customizable styles and colors. Concrete Designs encourages you to go even bolder with your custom countertop! Try adding led lighting, a water feature, or another medium such as wood. If you can dream it, we will do our best to make it happen.
Concrete countertops are unique to every project. Some concrete countertops are poured concrete countertops, meaning the concrete is poured into a shaped mold. Concrete can be formed into nearly any shape, and there are a number of different stains and colors you can add to your concrete countertops. Versatility is just one of the reasons to consider concrete for your countertops.
In addition to the client being able to choose a customized look, there are other benefits to using concrete.
Concrete is incredibly durable, which means you don't have to worry about damage as much as you would with other types of countertops. Granite, for example, must be sealed on a regular basis and often develops chips, scratches, hairline cracks, and large cracks that need to be repaired. 
Spills and heat won't harm your concrete countertops, which can bring you peace of mind.
Concrete looks more interesting with variations in texture and color while other types of countertops will look drab and worn out 
Concrete also coordinates with any type of backsplash you choose in a kitchen, such as glass, tile, or other backsplash materials. Not all countertop materials coordinate well with a wide variety of mediums. 
If you want your countertops to be personalized to your style yet also be cost-effective, concrete is a great solution. You can get the high-end customization you want without the high-end price tag.
Concrete doesn't have to come with seams like some other types of countertops. Because it can be poured to fit just about any shape, you can get one solid concrete slab without unsightly seams.
Concrete Kitchen Countertops
Concrete kitchen countertops are a popular choice for many homeowners. They are durable, easy to care for, and offer a unique look that can complement any style of kitchen.
When it comes to kitchen countertops, concrete is a material that offers many benefits. It is extremely durable, heat resistant, and low maintenance. Perhaps most importantly, concrete can be customized to fit any design aesthetic. Concrete countertops can be stained, painted, or even embedded with shells, stones, or other materials. As a result, they offer homeowners an incredible amount of freedom when it comes to creating their perfect kitchen. In addition, concrete countertops are very affordable, making them a great option for budget-conscious homeowners. Whether you are looking for a rustic look or a modern feel, concrete countertops are sure to give your kitchen the perfect finishing touch.
Benefits of Updating Your Kitchen or Bathroom Countertops
Home values are on the rise but with an outdated kitchen and bathroom, you are holding your home back from being worth more. We all know kitchens and bathrooms are often the selling points of a home. Invest in your future by making your home stand out with a stylish and sleek concrete countertop in your kitchen or bathroom. 
There are many reasons to upgrade your home with custom concrete countertops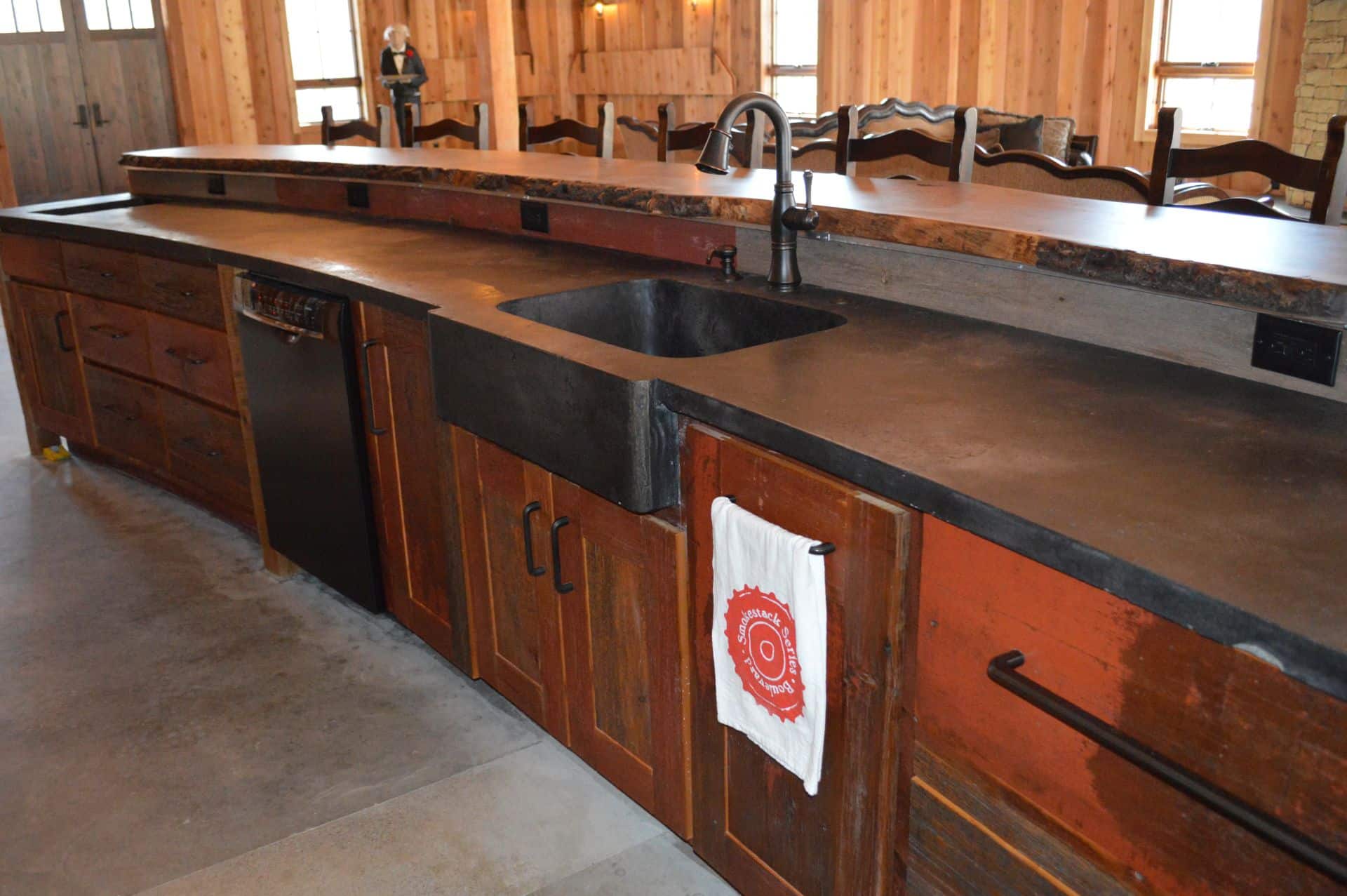 Depending on the design, the countertops may not be taking advantage of the space available or could be designed poorly, leaving you struggling with tasks like cooking, cleaning, or getting ready in the morning.
Another reason to replace an outdated countertop is for aesthetic reasons. You have to live in your home every single day, and the look of it is important to your overall happiness and well-being. When you live in a beautiful, functional space, this can actually improve your mood and quality of life.
Some outdated countertops could actually be unsanitary. For instance, some countertops have cracks or holes in them in which germs and bacteria could fester. If you replace these countertops with sealed concrete, you will find your counters are a lot easier to clean and take care of.
Updated kitchen and bathroom countertops are high on homebuyers' lists of must-haves. If you are a homeowner trying to sell your house, updated concrete counters could make it a lot easier and easily increase the value of your home. 
If you are a creative person, designing a bathroom or kitchen to your taste could be a dream come true. Home renovations are a form of creative expression, and you may enjoy every minute of updating your bathrooms or kitchen. Then, you get to enjoy these spaces for years to come because of the long-lasting quality of concrete.
Concrete Designs has artisans that can design and craft the custom concrete countertops you have been dreaming about.
Get Concrete Countertops Unique to Your Style
Plenty of companies will tell you they offer unique countertop designs, but they offer what everyone else is offering—quartz, granite, and marble. These materials don't make bad products, but they are expensive, require a lot of maintenance, aren't all that customizable, and are easily damaged. If you don't want to worry about messes, cracks, chips, or heat on your countertops, give concrete a try. We offer many custom options that can blow away guests yet still provide you with a functional countertop that will last for years to come.
Dazzle your guests with fiber optic lighting cast directly into your top! Add color with a touch of crushed glass, or save vacation memories by casting seashells into the surface. Regardless of how strange the idea may sound, let us know, and we will do everything we can to bring your dream to life! Concrete Designs offers truly customizable countertops to create a home that you can be proud of. Give us a call for more information about our design process.
Concrete kitchen and bathroom countertops can be made to suit your needs, style, and color scheme. You can get polished concrete countertops for a sleek look, or you can get stained concrete countertops in nearly any color. You can get concrete poured into a funky shape for a unique look, or you can keep your concrete counters simple and understated.
No matter what type of look you are going for, Concrete Designs can help you achieve it.
Polished Concrete Countertops
Polished concrete countertops are a stunning option for those looking for a modern and unique look in their home. Their high-gloss finish sets them apart from other concrete countertops, which creates a sleek and sophisticated appearance. Whether you're seeking a minimalist design or an industrial look, polished concrete countertops offer versatility in design that can match any aesthetic.
At Concrete Designs, we work with our clients to create custom polished concrete countertops that fit their specific needs. Our team is dedicated to delivering high-quality and personalized solutions that exceed expectations. Let us help you transform your space with polished concrete countertops that will elevate your home's design.
Stained Concrete Countertops
Concrete countertops stained with beautiful colors offer a unique way to enhance the appearance of your kitchen or bathroom. Unlike other concrete countertops, they can replicate the texture and color of natural stone or wood.
At Concrete Designs, we specialize in creating custom stained concrete countertops that are tailored to match your style and preferences. Our skilled artisans collaborate with you to design and craft a unique countertop that will become the focal point of your space. Our team is committed to bringing your vision to life, from choosing the perfect stain to creating a customized edge design. Let us assist you in transforming your home with a stunning stained concrete countertop.
Check out our
Custom Kitchen 
Counter Cost
Calculator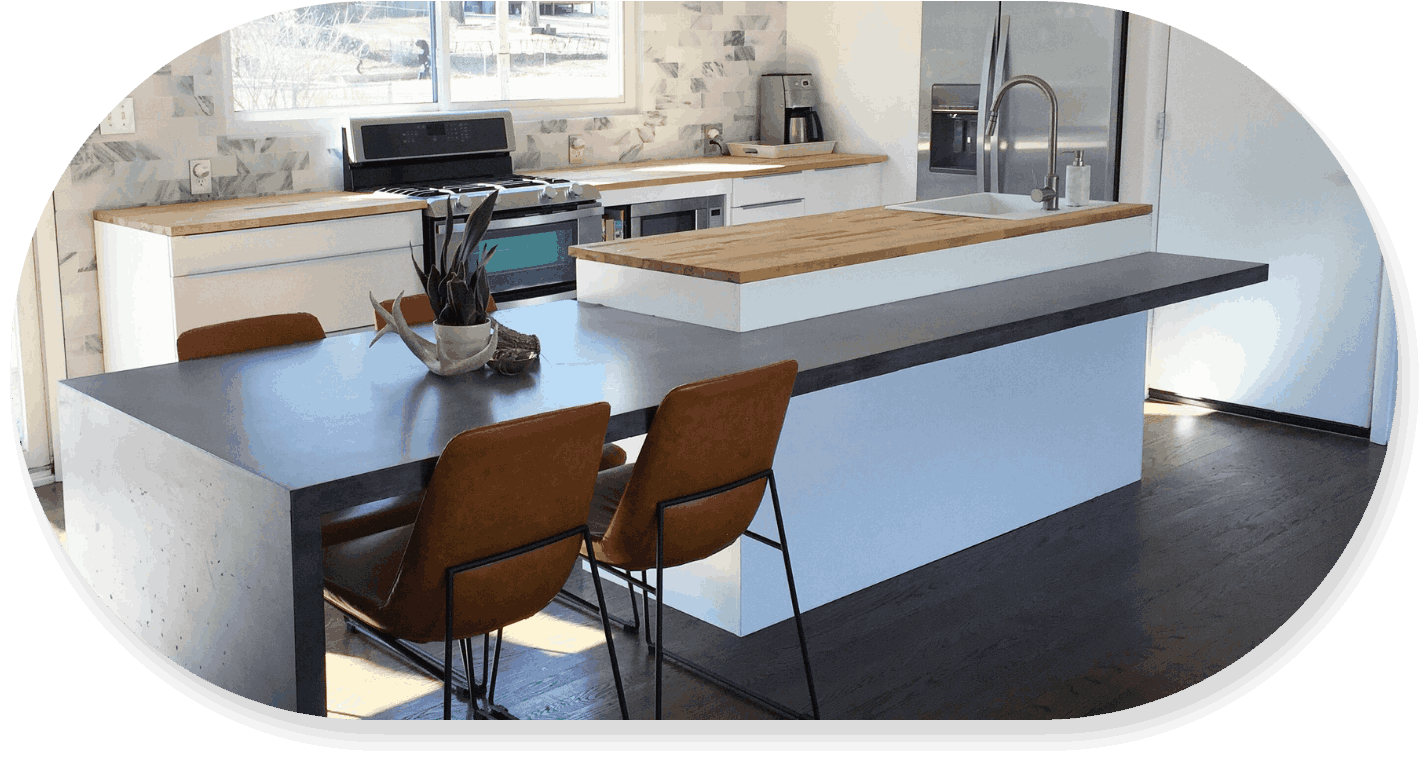 How are Concrete Countertops Made?
Concrete countertops are made by pouring a mixture of concrete, sand, and gravel into a mold. The concrete is then left to set and harden. Once it has hardened, the countertop is polished to give it a smooth, finished look. Concrete countertops are extremely durable and easy to maintain, making them a popular choice for kitchens and bathrooms. Because concrete is a porous material, it can stain easily. However, sealing the countertop will help to protect it from stains and moisture. With proper care and maintenance, concrete countertops will last for many years.
Our custom concrete countertops are crafted entirely by hand. Every detail—from building the forms to the exact custom dimensions, carefully measuring ingredients, mixing, casting, finishing, sealing, and even packaging — of it is done by hand by our amazing artisans. We use high-quality, specially formulated concrete mixes and sealers to provide a durable and beautiful product. While we can direct the shape and design, as the concrete reacts and cures, it develops its own character as well, leaving variations of color tones, patterns, and textures that make each piece as unique as a fingerprint. This makes concrete itself an amazing artist.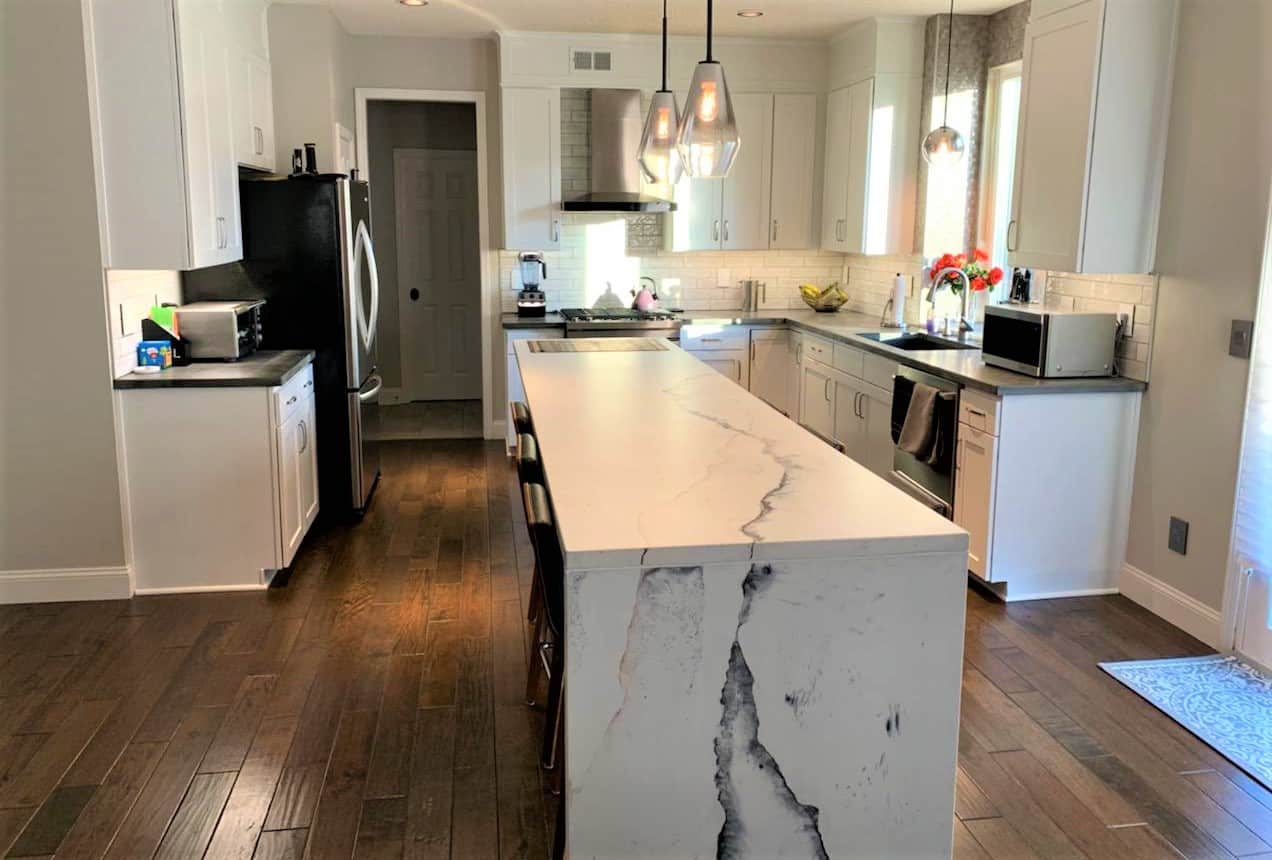 Free Shipping on all orders!
Check out our countertops today.