Custom Concrete Furniture: Indoor and Outdoor Options To Make Your Home Unique
Who says concrete furniture has to be boring? With a little creativity, you can use concrete to make unique pieces that will add personality to your home. Whether you're looking for a new coffee table or a one-of-a-kind outdoor dining set, Concrete Designs has custom concrete furniture that is a great way to get the look you want without breaking the bank.
Custom concrete furniture is a great way to add personality to your home
If you're looking to add a unique and stylish touch to your home, custom concrete furniture is the way to go. From indoor tables and seating to outdoor kitchen islands and fountains, custom concrete furniture adds character and charm that is durable, making it perfect for any climate. Additionally, those looking for something truly eye-catching can opt for a sculptured or textured piece of concrete wall art or shelves. No matter what you're looking for, having a piece of custom concrete furniture in your home is sure to make a statement and delight visitors.
You can find custom concrete furniture for both indoor and outdoor use
Whether you're looking for stylish indoor seating, outdoor tables and benches or even a custom kitchen island, these unique pieces can provide long lasting beauty and utility to any environment. Custom concrete furniture is also ideal for creating fountains, countertops, firepits and other pieces of wall art and décor that stand out from the crowd. With the right design elements and finishes, custom concrete furniture can offer the perfect blend of beauty and functionality.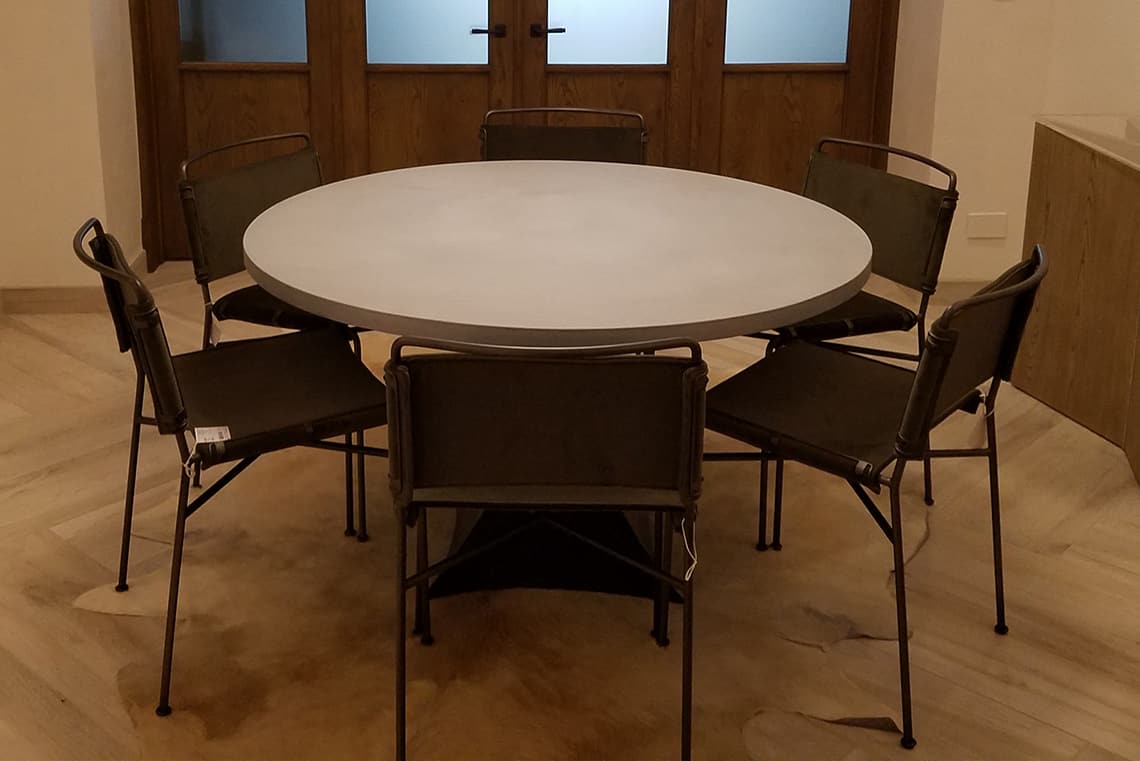 Free Shipping on all orders!
Check out our countertops and furniture today.
Things To Consider When Shopping For Custom Concrete Furniture
When picking out custom concrete furniture for your home or business, it's important to take into consideration the size, shape, and color that will best suit your needs. You'll also want to decide on a color palette that compliments your space in order to get stylish results that last. By utilizing all these points in your decision-making process, you'll be sure to find the perfect custom concrete furniture for any indoor or outdoor setting.
With a little bit of research, you're sure to find the perfect piece of custom concrete furniture for your home
Custom concrete furniture instantly adds a unique, upscale style to both indoor and outdoor decor. With the right research, you can find beautiful tables, seating areas, kitchen islands, fountains and sculptures for your yard. Likewise, inside your home you are sure to find wall art, shelves and other decorative pieces made from custom concrete for a truly polished look. With so many different types and styles of furniture available, it's easy to find something that will perfectly suit your needs.
If you need help choosing or designing the perfect piece of furniture, Concrete Designs is here to help. Call us today at 913-228-1524 or fill out our contact form to get started!