Concrete countertops are one of the most popular materials for kitchen surfaces and have been gaining traction as an option for both modern and traditional style kitchens alike. With superior durability, beautiful textures, and endless customizability options to choose from, it's no wonder that concrete is such a sought after material when it comes to design ideas for updating your home's kitchen.
Whether you're looking to remodel or just trying something new, concrete counters can be a great choice. Before taking the plunge, let's explore some of the pros and cons of these trendy countertops so that you can make an informed decision about what best fits your needs!
The Growing Popularity of Concrete Countertops
Concrete countertops are fast becoming the rising stars of the home design world, and for good reason. This versatile, durable, customizable material is the perfect choice for those looking for a unique and stylish look in their kitchens and bathrooms. This trend shows no signs of slowing down. More and more homeowners are turning to concrete as a modern and affordable alternative to traditional countertop materials such as granite and marble.
With a plethora of options available for customization, from color and texture to shape and size, it's no wonder that concrete countertops are quickly becoming the go to choice for homeowners looking to revamp their living spaces.
Pros of Concrete Countertops
In the world of kitchen design, it is hard to compete with the durability, customization capabilities, and aesthetic appeal of concrete countertops. Unlike other popular materials such as granite or marble, concrete countertops are nearly indestructible, meaning you can cook and chop to your heart's content without worrying about damaging the surface.
Additionally, with the ability to mix in various colors and textures, concrete provides the ultimate customization options. Concrete has got you covered whether you want a classic chic look or a bold, bright pop of color. Perhaps the most alluring feature of concrete countertops is their unique and stylish appearance that has the perfect blend of modern and rustic. So, if you want to elevate your kitchen design, it's worth considering concrete countertops.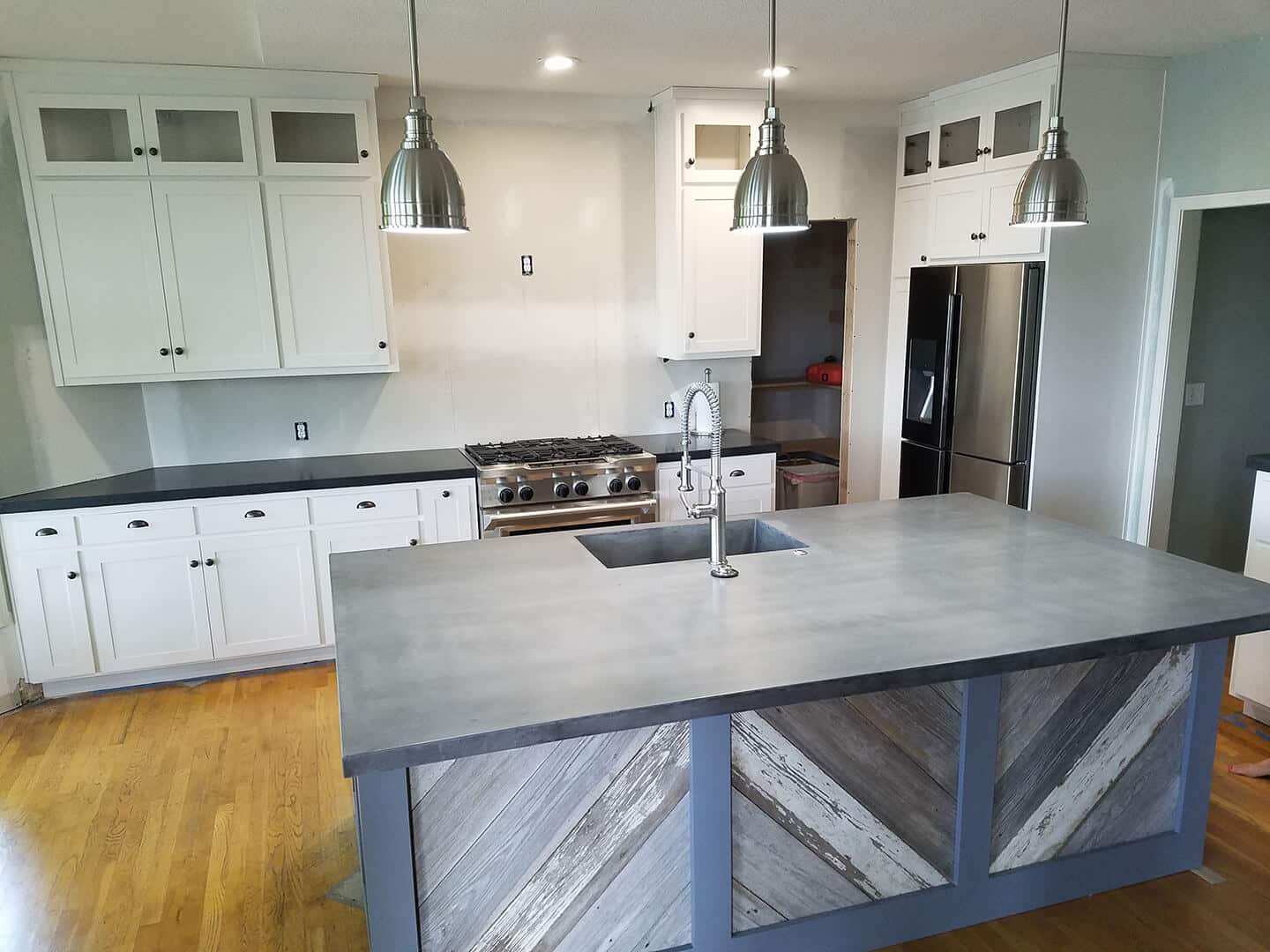 Free Shipping on all orders!
Check out our countertops and furniture today.
Cons of Concrete Countertops
While it's true that concrete countertops have gained popularity in recent years, it's important to note that they come with some cons. One of the most significant drawbacks is their maintenance requirements - concrete is porous and can absorb stains and liquids easily. This means that you'll need to seal the surface regularly to keep it looking good.
In addition, concrete countertops tend to be more expensive than other materials, such as granite or laminate. Lastly, installation can be challenging due to the weight of the material and the need for precise measurements. While concrete countertops can provide a unique and modern look to your kitchen, weighing the pros and cons before deciding if they're right for you is essential.
Comparing Concrete to Other Countertop Materials
Selecting the right kitchen countertop can be a daunting task due to the myriad of options available. The most commonly used materials for countertops are granite, quartz, marble, and concrete, each with its own set of advantages and disadvantages that can impact your choice.
Granite is renowned for its natural beauty and robustness, while quartz is valued for its low-maintenance and resistance to stains. Marble is often admired for its elegance, but it is prone to scratches and other types of damage. On the other hand, concrete countertops are becoming increasingly popular because of their versatility and durability. They can be customized and stained to blend seamlessly with any design style and are potentially the most long-lasting of the materials.
Since each of these materials comes at a different cost and has its own unique strengths, it is essential to carefully weigh the factors before making a decision.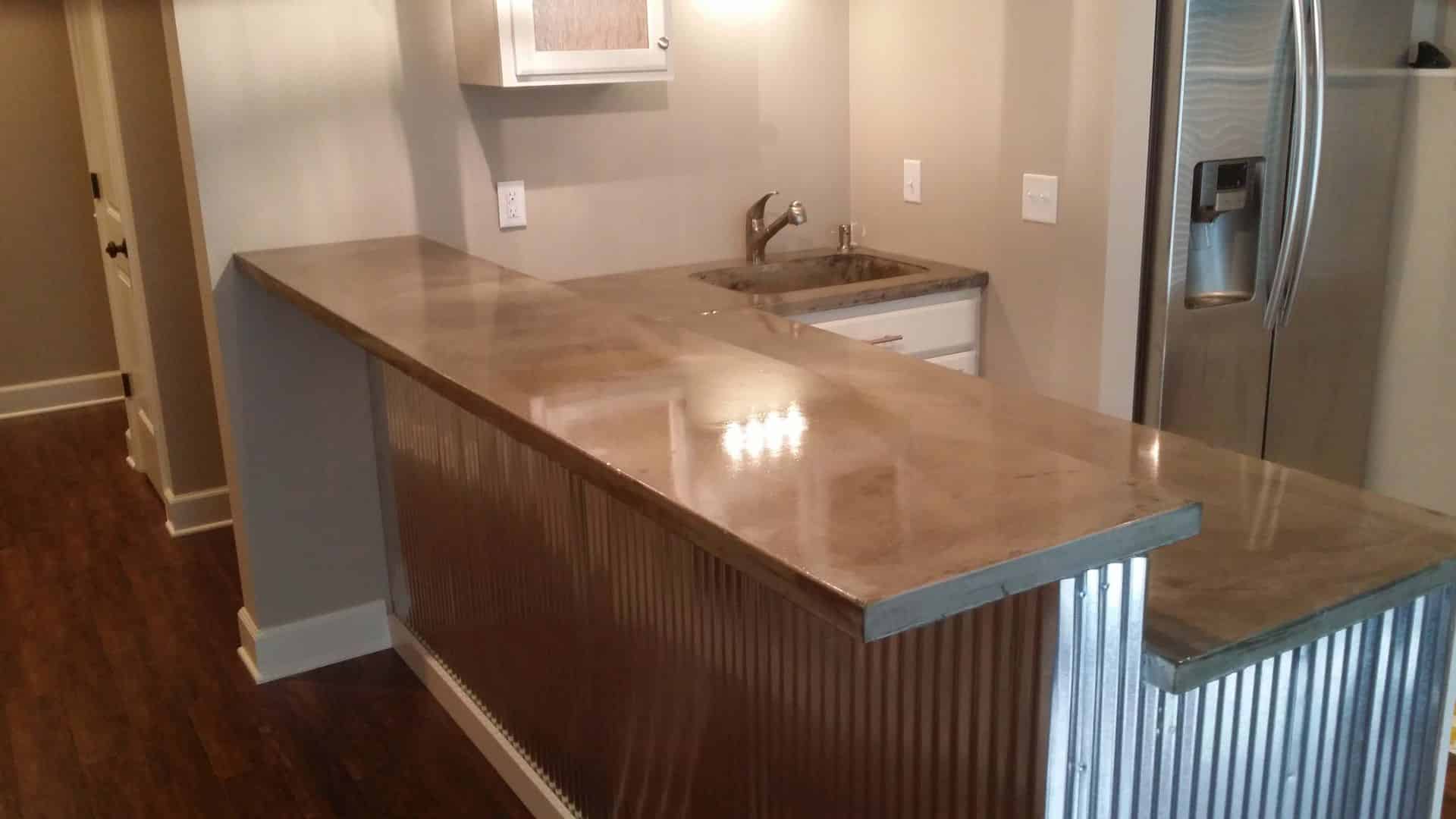 Is a Concrete Countertop Right for Your Home?
If you're in the process of updating your kitchen or bathroom, you've probably considered a variety of countertop options. While traditional choices like laminate or granite may come to mind, a concrete countertop is a unique and stylish option that can add a modern touch to any space. Not only are concrete countertops durable and long-lasting, but they also offer customization options that allow you to create a one-of-a-kind look for your home.
However, before committing to a concrete countertop, it's important to consider factors like maintenance and cost. If you're looking for a functional and eye-catching surface that can withstand daily wear and tear, a concrete countertop might be the perfect choice for your home.