Unique Concrete Fireplace Surrounds
Make a statement that defines the look and feel of your living room with our custom fireplace surrounds or concrete mantels. Concrete surrounds and mantels provide an instant makeover to your fireplace that's not only beautiful but protects your home from embers and sparks as well. Sit back and enjoy your time by the fire worry-free.
Concrete fireplace surrounds offer a unique look that sets your home apart from others. While traditional materials such as pine or marble look nice, they don't make quite as big a statement as a concrete surround or concrete mantel. If you want a custom fireplace mantel made specifically for your fireplace, style, and aesthetic, then connect with Concrete Designs in Kansas City. We'll be happy to help you create the perfect concrete fireplace surround for your home.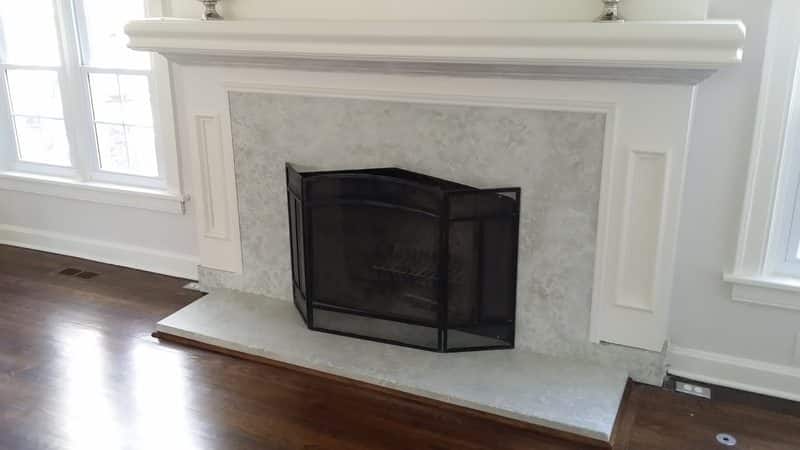 Our Custom Fireplace Surround Fabrication Process
When you work with Concrete Designs, you can expect high-quality craftsmanship, excellent customer service, and affordable prices. We believe that your fireplace mantel should be an expression of your personal style, and we'll work with you to make sure that it's exactly what you want.
Choose from modern and contemporary looks or more traditional, classic, and distinguished options. A concrete mantel shelf or fireplace mantel surround should be beautiful and functional, the perfect frame for dancing flames. No matter which style of custom fireplace mantel you prefer, Concrete Designs is excited to help you begin your next project!
Our fabrication process begins with taking measurements and noting your vision for the fireplace surround. We then prepare concrete which is formed, molded, colored, and finished to fit your desired area and the look you prefer. To finish, we polish concrete with a densifier substance, ensuring it is ready for installation. With our unique concrete fireplace surround fabrication process, you can trust us for a high-end product that stands out from the crowd. Let us make your dream concrete fireplace surround a reality!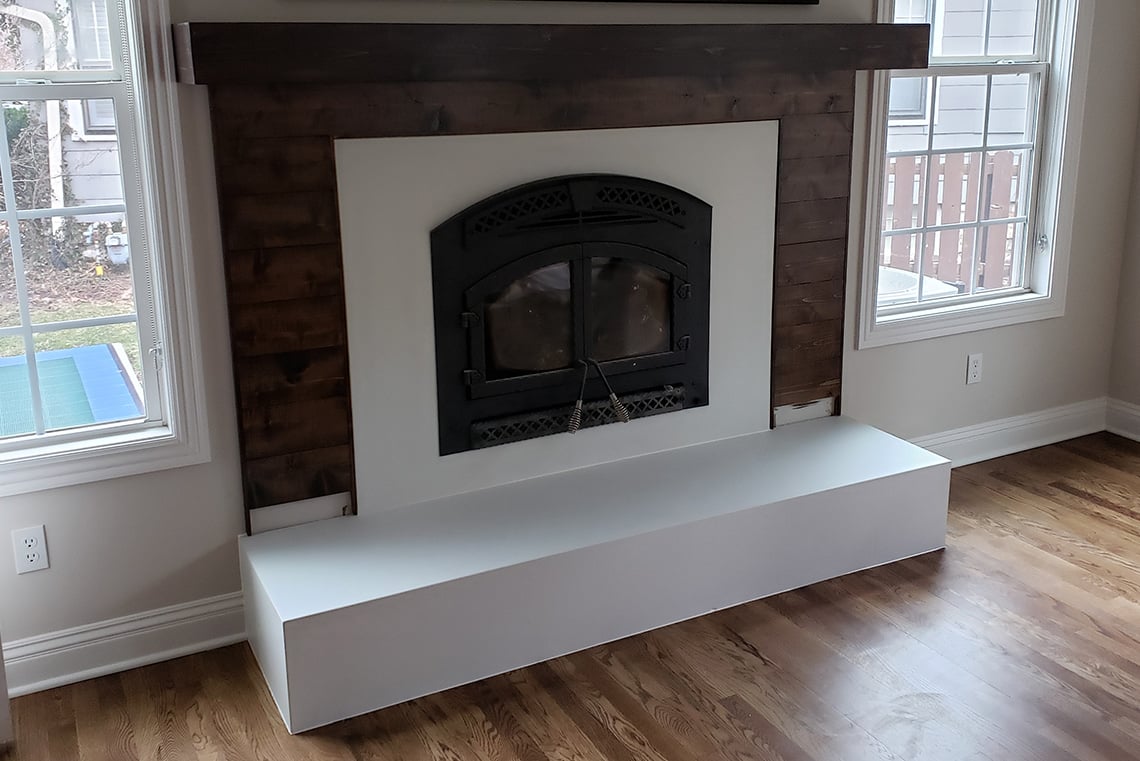 Your Hearth is Refreshed With a Concrete Fire Surround!
We here at Concrete Designs understand that your home is your castle. Even if it has the same floor plan as the house across the street, your home is unique and special to you. The living space inside your home helps you express your style and uniqueness, and Concrete Designs is here to help you show off your personality with a refreshed look!
There's nothing wrong with wood mantels, but custom concrete mantels and surrounds offer a unique look that most people don't have. Concrete fireplace surrounds are a popular choice for homeowners who want a fresh, new look that is unique and stylish. Concrete is incredibly versatile and can be molded into any shape or size, making it the perfect material for a custom fireplace mantel or surround. With concrete, the possibilities are endless. It's a non-combustible material, which makes it perfect for adorning fireplaces of all types, sizes, and styles. Your fireplace is an important part of the home because it is a gathering place for friends and family, a focal point, and a design opportunity. You can take this chance to create a one-of-a-kind feature in your home, whether you choose from classic designs or modern designs. Homeowners also benefit from a beautiful, modern fireplace surround because this is a selling feature.
Free Shipping on all orders!
Get started today.
Showcase Your Style
Your custom fireplace surround will be an essential showpiece of functional art, and the process begins with you! What would you like your piece of art to say about you? Do you want to bring a sense of decorum and stature to your living room with a classic fireplace? Or are you ready to shake it up and bring a funky vibe into your space? 
Concrete Designs will work with you to find or create the perfect design for your fireplace. We will also help you select the right color and finish to complement your existing décor or to create a whole new look. Once we have all of the details worked out, our team of expert craftsmen will get to work creating your custom concrete fireplace surround.
At Concrete Designs, each fireplace surround starts with durable concrete. It is one of the strongest materials available and can withstand the fire's heat during those cold winter evenings. Our materials are of superior quality in order to give you a long-lasting and functional piece of art. That crackling fire is begging to be surrounded by concrete art.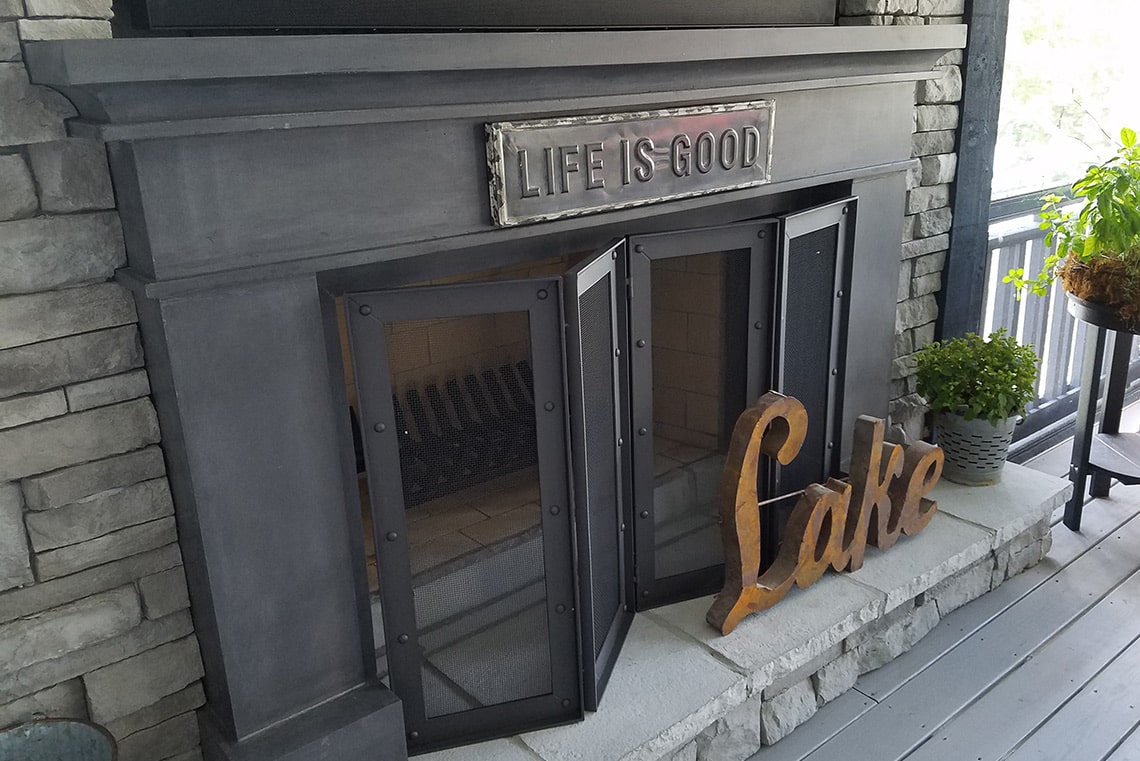 Frequently Asked Questions About Concrete Fireplace Surrounds
Why Concrete for a Fireplace Surround?
Maybe you've seen people with a granite fireplace surround or a wooden mantel made of oak, cherry, or maple wood, and while these materials are fine for a fireplace, there is nothing about them that says, "Wow!" While concrete is not always everyone's first thought when designing a fireplace mantel or surround, there are several benefits to using this material. Consider:
Concrete is extremely durable, which means you won't have to worry about replacing it, burning it, or damaging it.
The look of concrete can be customized to your needs. You can polish concrete, leave it rough, stain it, or add pigments to it.
Concrete can be molded and shaped into different designs, so you can truly get a one-of-a-kind look. You will know that no one else has your exact fireplace surround.
The texture that concrete brings to a space can't be duplicated through any other type of fireplace surround material. Not even natural stone can create quite the same texture as concrete.
We believe that concrete is the best material for a surround because of its versatility.
No matter what type of fireplace you have, we can use concrete to showcase it. Electric fireplaces, gas fireplaces, or wood-burning fireplaces all look good surrounded by glorious concrete.
Wood fireplace mantels and tile surrounds are so standard that they won't really bring that wow factor no matter how beautiful they are. But concrete fireplace mantel shelves could be just what you need to set off your design style and dazzle your guests.
Do Concrete Fireplace Surrounds Add Value to Your Home?
The beauty of a custom-made concrete fireplace surround is that you can make it as unique and modern or classic-looking as your heart desires! Most people will appreciate the one-of-a-kind nature of this design, so they may pay more for their house with features like these. If you're worried about whether others would enjoy using/visiting yours then there's no need to worry because everyone has different tastes when viewing homes; some prefer neutral looks while others want something more eye-catching; the important thing is to invest in whatever suits YOUR personality best.
Can Concrete Designs Help Me Come Up With Fireplace Mantel Ideas?
Yes, we can. We know that not everyone knows exactly what they want when they first start out with home renovations. You may have an idea as to the style of decor you would like, or you may know you want a fireplace makeover, but you may need a little help with ideas. We can put together ideas for you because we want you to be able to visualize how your gorgeous new fireplace will look.
Why Purchase a Custom Concrete Fireplace Mantel or Surround?
Concrete Designs creates custom concrete surrounds and mantels, which means yours will be 100 percent unique. Custom surrounds look so much better than surrounds that are mass-produced by a manufacturer because they are designed to fit your exact specifications. We can create a mantel or surround that fits your fireplace's dimensions perfectly and meets your personal preferences. You don't have to settle for a mantel or surround that is just okay. You can get one that blows everyone away.
How Much Does a Concrete Fireplace Surround Cost?
After a stressful day, there is almost nothing better than relaxing by the fire. In a matter of minutes, that fire has your worries slipping away. Your comforting fireplace can be even more welcoming with a custom concrete surround or mantel. Choose your own color, mantel length, shelf depth, design style, and more custom options that will make your concrete fireplace surround the best anyone has ever seen.
The costs of custom-made fireplace surrounds vary depending on size, materials, and design. Concrete Designs is excited to be a part of your makeover and invite you to contact us to discuss the details further during a free design consultation.