Custom Concrete Furniture Designed & Built in Kansas City
Are you interested in having unique furniture, the kind of statement pieces that make your house a home? Concrete Designs in Kansas City creates custom furniture from concrete that will wow you, your family, and visitors. Furniture should be more than just functional—it should be art that makes you happy every time you step into a room. Getting your furniture made by furniture makers who are also artists can change how you feel about your home. A home should represent the people who live there, and having custom furniture made in your style can bring all the cozy vibes. We custom build and design concrete tables, concrete chairs, concrete dining tables, concrete coffee tables, so much more. Nearly any type of custom furniture or art you can dream up, we can mold it into existence.
The design potential of concrete is virtually limitless. If it can be formed, it can be poured. This expands our abilities from flat slabs to vertical, curvy, and 3-dimensional works of art. All of the same principles that go into creating concrete countertops go into creating concrete furniture. Our artisans have created concrete water features, concrete fire pits, concrete coffee tables, concrete benches, concrete desks, and concrete chairs. We have even had the opportunity to create a concrete bathtub! We are always up for a challenge and always looking for better, more unique designs to create. No matter how outlandish the idea may sound, bring it to us, and let's see if we can create something incredible!
Concrete Furniture for Outdoor Use
Although your outdoor furniture is likely advertised as being weather-proof, it probably won't be long before it shows signs of weathering. It's not uncommon for patio furniture to rust from years of rain, fade from the sun's harsh ultraviolet rays, and suffer damage (or be lost completely) from strong winds.
Not only is concrete furniture incredibly stylish, but it's also extremely durable and practical for outdoor use. Concrete Designs only uses the highest grade of materials to help ensure your furniture will weather the storm. We know you will be happy with your purchase, but here are a few reasons to consider integrating modern concrete furniture into your outdoor living space's design: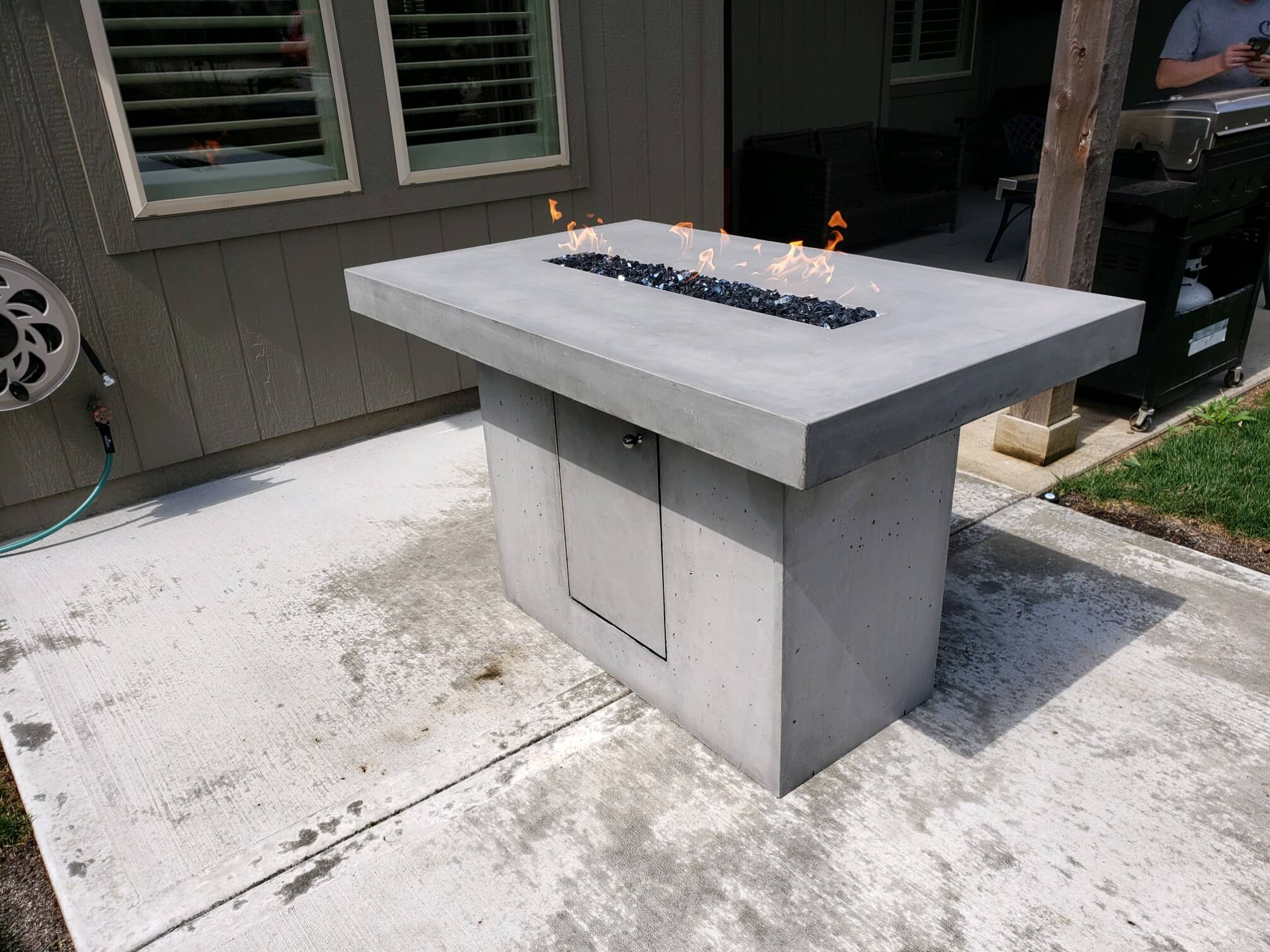 Concrete is one of the strongest materials available, making it capable of withstanding storms and extreme weather conditions.
Concrete is a sustainable material that will complement any natural elements that you have incorporated into your outdoor design, including wood, metal, and leather.
Concrete is endlessly versatile and can be shaped into outdoor tables, benches, chairs, fire pits, and more.
Concrete adds a unique texture to your yard, patio, or garden space. Whether you use it for outdoor tabletops or for a birdbath, concrete will break up your green space by incorporating a hardscape element.
Having a beautiful piece of furniture outside is functional and creates a homey vibe to your outdoor space. Many people are bringing living rooms outdoors. You can have the comfortable feeling of a living room with the fresh air of the great outdoors.
Concrete pieces, such as planters, can last for years. You won't have to worry about the cost of replacing outdoor furniture when it's made of concrete.
Free Shipping on all orders!
Find the Right Design for You.
Indoor Concrete Furniture
Furniture comes in a variety of styles and materials, and concrete may not have been the material that first comes to mind when you think of a cozy indoor space. But we think you will be pleasantly surprised by how concrete can warm up an interior room. Concrete can be stained to match your interior design and can be left matte or polished to a glossy sheen. You can also inlay different materials into a concrete furniture piece, such as river rocks, to make a truly one-of-a-kind work of art.
Concrete furniture isn't just for outdoor use—concrete is a beautiful addition to a wide range of interior design styles from modern minimalism to traditional farmhouse. Here are just a few examples of the types of pieces our furniture designers can create:
Concrete side tables, dining tables, and cocktail tables
Concrete chairs, stools, and benches
Concrete kitchen islands
Concrete wall art and shelves
Concrete fountains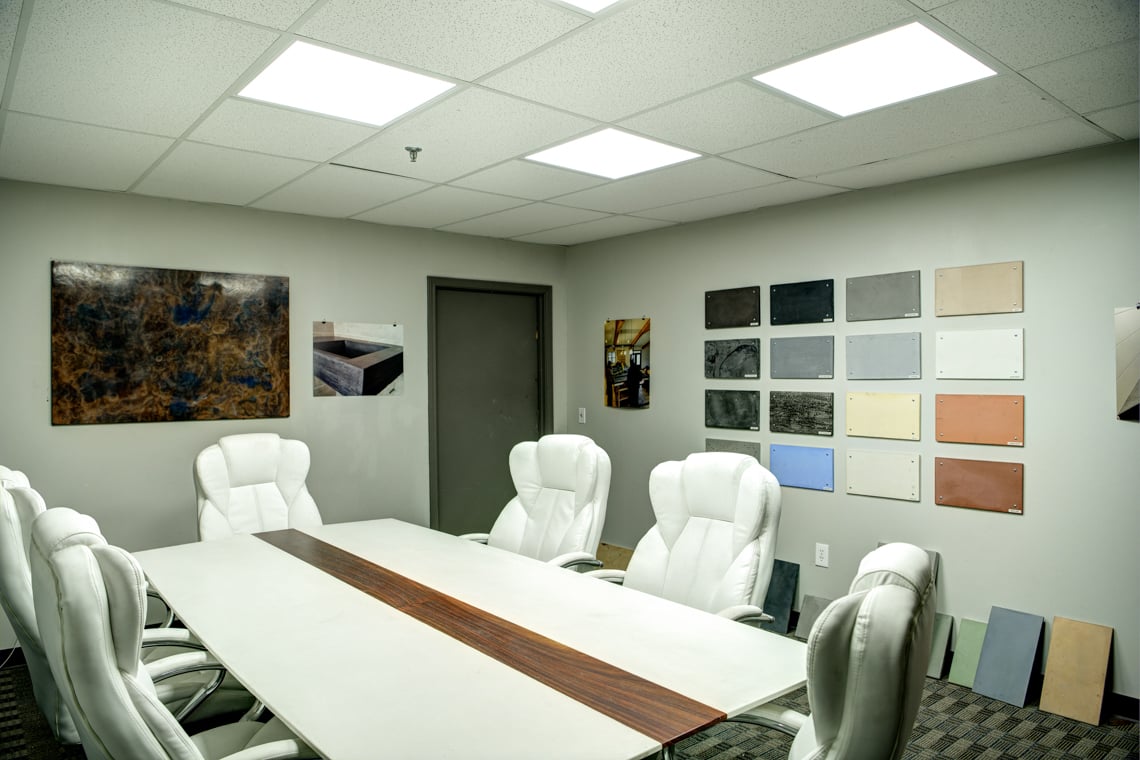 Reach Out to Concrete Designs in Kansas City
Are you willing to learn a little more about our design process? We are happy to show you some of our work, and we would love to discuss your project ideas. Custom furniture designed by artists and expert concrete craftspeople doesn't have to be out of reach for you. Call Concrete Designs today, and tell us about your concrete design idea!