Custom Concrete Furniture Designed & Built in Kansas City
Are you interested in having unique furniture, the kind of statement pieces that make your house a home? Concrete Designs in Kansas City creates custom furniture from concrete that will wow you, your family, and visitors. Furniture should be more than just functional—it should be art that makes you happy every time you step into a room. Getting your furniture made by furniture makers who are also artists can change how you feel about your home. A home should represent the people who live there and having custom furniture made in your style can bring all the cozy vibes. We custom build and design concrete tables, concrete chairs, concrete dining tables, concrete coffee tables, and so much more. Nearly any type of custom furniture or art you can dream up, we can mold it into existence.
The design potential of concrete is virtually limitless. If it can be formed, it can be poured. This expands our abilities from flat slabs to vertical, curvy, and 3-dimensional works of art. All of the same principles that go into creating concrete countertops go into creating concrete furniture. Our artisans have created concrete water features, concrete fire pits, concrete coffee tables, concrete benches, concrete desks, and concrete chairs. We have even had the opportunity to create a concrete bathtub! We are always up for a challenge and always looking for better, more unique designs to create. No matter how outlandish the idea may sound, bring it to us, and let's see if we can create something incredible!
Concrete Furniture for Outdoor Use
Although your outdoor furniture is likely advertised as being weather-proof, it probably won't be long before it shows signs of weathering. It's not uncommon for patio furniture to rust from years of rain, fade from the sun's harsh ultraviolet rays, and suffer damage (or be lost completely) from strong winds.
Not only is concrete furniture incredibly stylish, but it's also extremely durable and practical for outdoor use. Concrete Designs only uses the highest grade of materials to help ensure your furniture will weather the storm. We know you will be happy with your purchase, but here are a few reasons to consider integrating modern concrete furniture into your outdoor living space's design: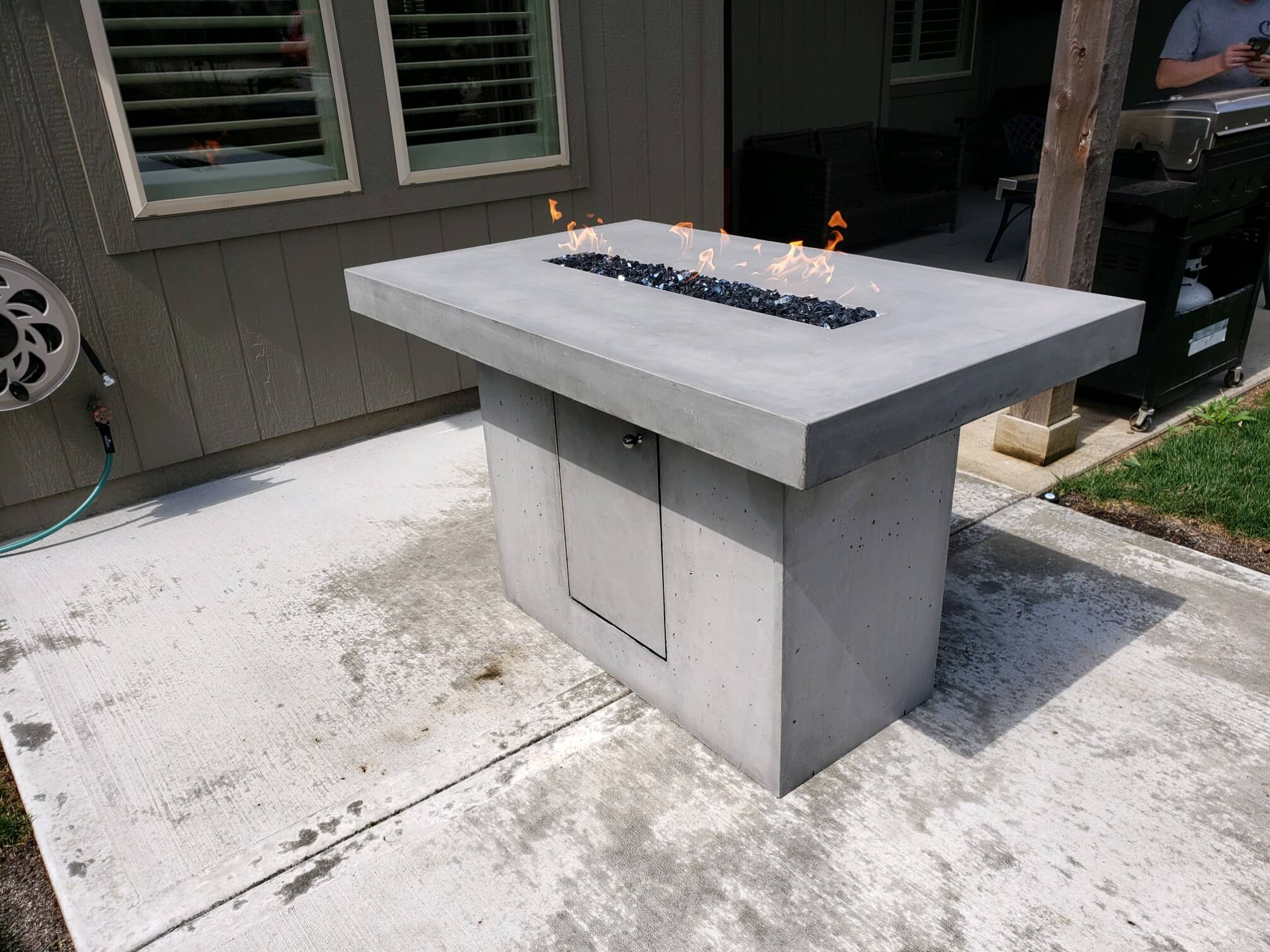 Concrete is one of the strongest materials available, making it capable of withstanding storms and extreme weather conditions.
Concrete is a sustainable material that will complement any natural elements that you have incorporated into your outdoor design, including wood, metal, and leather.
Concrete is endlessly versatile and can be shaped into outdoor tables, benches, chairs, fire pits, and more.
Concrete adds a unique texture to your yard, patio, or garden space. Whether you use it for outdoor tabletops or for a birdbath, concrete will break up your green space by incorporating a hardscape element.
Having a beautiful piece of furniture outside is functional and creates a homey vibe to your outdoor space. Many people are bringing living rooms outdoors. You can have the comfortable feeling of a living room with the fresh air of the great outdoors.
Concrete pieces, such as planters, can last for years. You won't have to worry about the cost of replacing outdoor furniture when it's made of concrete.
Free Shipping on all orders!
Find the Right Design for You.
Indoor Concrete Furniture
Furniture comes in a variety of styles and materials, and concrete may not have been the material that first comes to mind when you think of a cozy indoor space. But we think you will be pleasantly surprised by how concrete can warm up an interior room. Concrete can be stained to match your interior design and can be left matte or polished to a glossy sheen. You can also inlay different materials into a concrete furniture piece, such as river rocks, to make a truly one-of-a-kind work of art.
Concrete furniture isn't just for outdoor use—concrete is a beautiful addition to a wide range of interior design styles from modern minimalism to traditional farmhouse. Here are just a few examples of the types of pieces our furniture designers can create: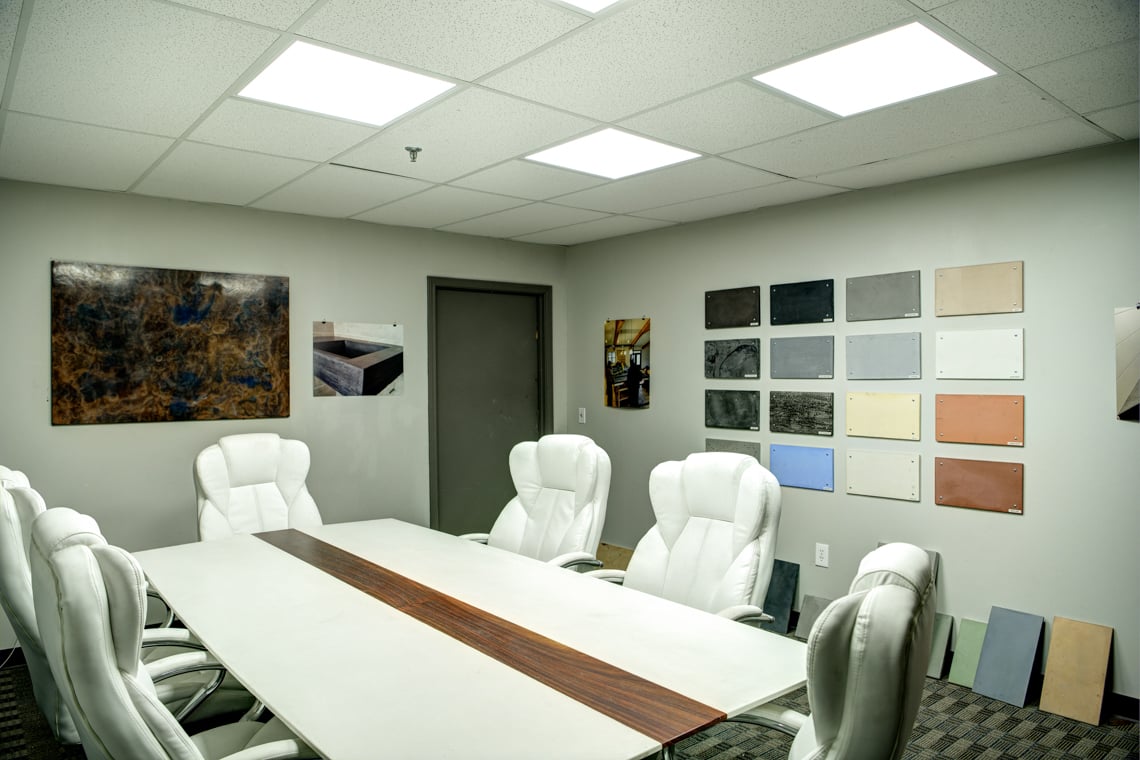 Concrete Tables
A concrete table is a great addition to any house or outdoor space. Not only is it durable and easy to care for, but it also has a unique look that can add personality to your décor. While concrete tables come in a variety of styles, the most popular designs feature clean lines and sleek shapes. No matter what your personal taste, Concrete Designs can create a concrete table that will complement your outdoor living space.
Concrete Seating
Concrete seating is a popular choice for patio furniture because it is durable and easy to care for. However, concrete can also be quite comfortable, thanks to its natural ability to retain heat. In fact, on a chilly evening, concrete seating can actually be warmer than other materials like metal or wood. Additionally, concrete is a great choice for areas that get a lot of sunlight, as it will stay cool to the touch even in the hottest weather. So if you're looking for furniture that is both stylish and functional, consider concrete seating for your next gathering space. You and your guests are sure to enjoy its unique blend of form and function.
Concrete Kitchen Islands
A kitchen island is a great way to add extra prep space, storage, and style to your kitchen. And while there are many different materials you can choose for your island, concrete is a unique option that offers both form and function. Concrete is extremely durable and low maintenance, making it ideal for busy kitchens. It's also heat-resistant, so you can set hot pots and pans directly on the surface. And since concrete is naturally gray, it's easy to mix and match with other colors and finishes in your kitchen. If you're looking for a statement piece that will also make your life easier, a concrete kitchen island is a great choice.
Concrete Wall Art and Shelves
There are many ways to use concrete to create beautiful and functional works of art. For instance, concrete wall art can add visual interest to any room, and concrete shelves can provide a sturdy and stylish way to store books or other belongings. Concrete is also a great material for creating outdoor sculptures or planters. With its versatile properties, concrete can be used to create a wide range of unique items that are both practical and eye-catching. So whether you're looking for a new way to spruce up your home or patio, or you're simply searching for unique gift ideas, consider exploring the many possibilities of concrete art.
Concrete Fountains
There's something about the sound of water gently trickling over concrete that just makes you feel at peace. Maybe it's the reminder of a babbling brook or a hidden waterfall, but whatever the reason, concrete fountains are becoming increasingly popular as both indoor and outdoor décor. And it's easy to see why – not only do they add a touch of elegance to any setting, but they also help to mask unwanted noise and create a sense of calm. What's more, concrete fountains are relatively easy to care for, and they can last for many years with minimal maintenance. Whether you choose a simple design or an elaborate one, a concrete fountain is sure to add a touch of beauty to your home.
Custom Concrete Furniture
The best way to add a unique touch to your home décor is with custom concrete furniture from Concrete Designs. We can create one-of-a-kind pieces that are both stylish and functional. Whether you're looking for a coffee table, end table, or even a dining table, we can create a custom design that fits your needs. And because our furniture is made from concrete, it's incredibly durable and easy to care for. Simply wipe it down with a damp cloth to keep it looking like new.
At Concrete Designs, we take concrete furniture creation seriously. We understand that each piece of furniture is unique, and we strive to reflect that in our work. The first step in our process is to consult with the client to discuss their vision for the piece. Once we have a clear understanding of the desired style, we begin creating a prototype. Our team then works tirelessly to perfect the design, making sure that every detail is just right. Once the client is happy with the final product, we cast the piece in concrete and finish it with a high-quality sealant. The result is a one-of-a-kind piece of concrete furniture that is sure to impress.
With our custom concrete furniture, you can have the beautiful and unique home that you've always wanted. Contact us today to get started on your custom order.
Reach Out to Concrete Designs in Kansas City
Are you willing to learn a little more about our design process? We are happy to show you some of our work, and we would love to discuss your project ideas. Custom furniture designed by artists and expert concrete craftspeople doesn't have to be out of reach for you. Call Concrete Designs today, and tell us about your concrete design idea!